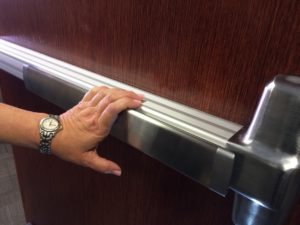 The 2010 Americans with Disabilities Act (ADA) Standards for Accessible Design went into effect almost five years ago (i.e. March 2012), but there are several requirements that seem to still surprise design/construction professionals—and building owners. This is especially the case when it comes to door openings.
For example, door hardware must now operate with 22.2 N (5 lb) of force—a limit most panic hardware does not meet. Further, any low-energy automatic operators actuated by a motion sensor must meet the safety requirements for a full-powered automatic operator—possibly including safety mats and guide rails. Other relatively recent changes include the bottom rails of manual swinging doors must be at least 254 mm (10 in.) high, and no hardware may protrude from the push side within the bottom 254 mm (10 in.). Further, automatic operators on doors that do not provide proper egress-side maneuvering clearance for a manual door must have standby power. What's a designer to do?
This topic is covered in greater depth in The Construction Specifier's newest sponsored e-book, "Unlocking the Secrets of Door Hardware." To download it, visit http://www.constructionspecifier.com/ebook/hafele-unlocking-the-secrets-to-door-hardware-e-book.