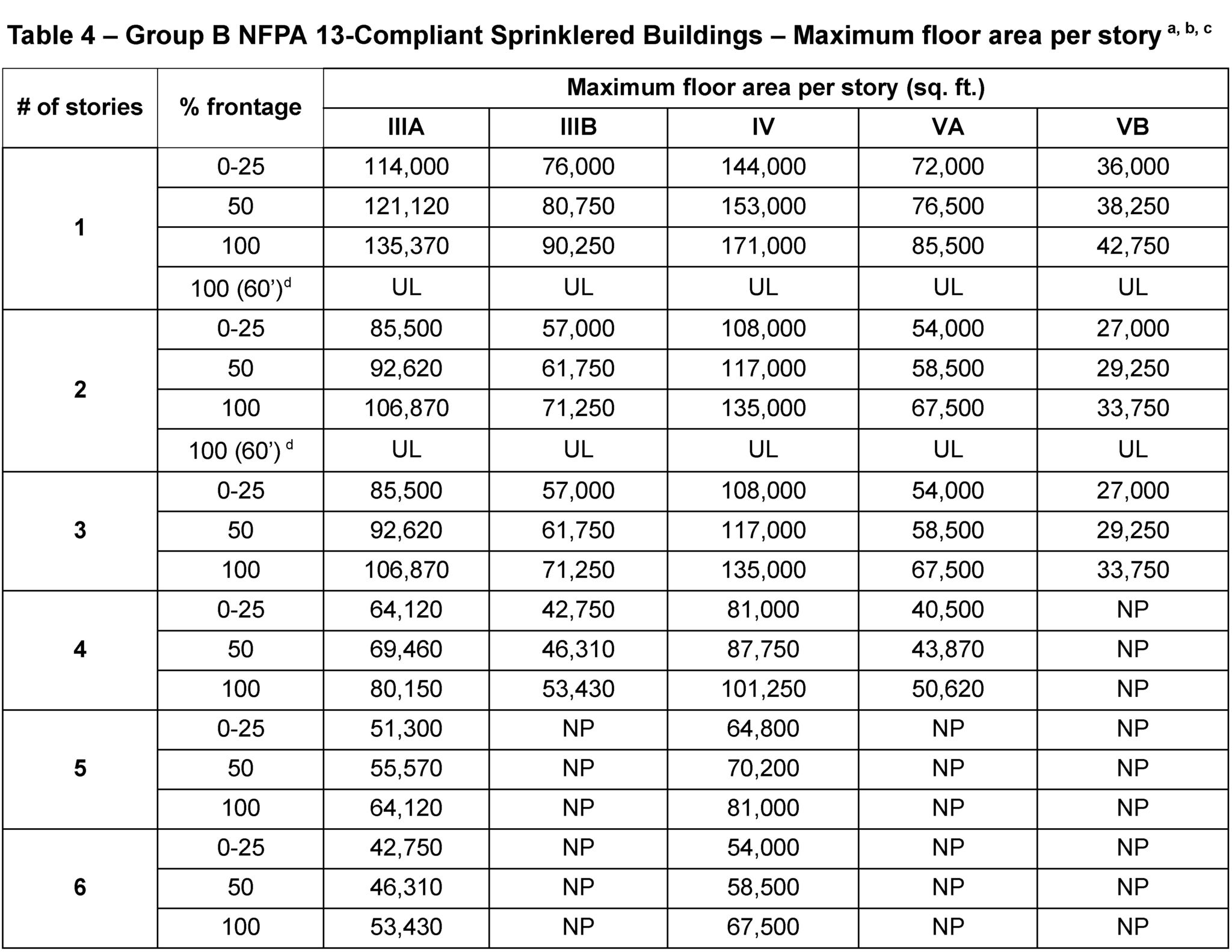 General building height and area allowances are outlined in IBC Chapter 5. For easy reference, CCWD shows excerpts from the IBC tables for height, number of stories, and per story area (Figure 1). Generally speaking, the maximum height and area of a building depends on its construction type classification (e.g. Type III, IV, V, etc.), its occupancy classification (e.g. Use Group B, A, R, etc.), and presence of an automatic sprinkler system. When a building is equipped throughout with an automatic sprinkler complying with National Fire Protection Association (NFPA) 13, Standard for the Installation of Sprinkler Systems, the permissible floor area per story can be increased by 300 percent for one-story buildings or 200 percent for multistory buildings. The building height can also be increased by 6 m (20 ft) and one story. Other considerations may include access to the building's perimeter, as well as intended use of the space around the building.
Establishing fire-resistance
CCWD users are also introduced to analytical methods for establishing fire-resistance of wood assemblies and heavy timber. Table 601 in the IBC establishes the required fire-resistance of building elements—primarily the structural frame, walls, floors, and roofs—based on the building construction type. Hourly fire-resistance ratings gradually increase as buildings become larger and taller. The rating is established based on how rapidly the strength or stiffness of the member or assembly is affected by the fire and whether hot gases are able to pass through the assembly.
Testing building assemblies and elements according to ASTM E119, Standard Test Methods for Fire Tests of Building Construction and Materials, or the corresponding UL standard, and using tested assemblies or elements in design, is the common path for establishing fire-resistance in building design. However, most fire testing, inspecting, and certification bodies are increasingly looking to alternatives for establishing fire-resistance listed in the code (IBC Section 703.3). For instance, Chapter 16 of AWC's NDS outlines methods for calculating fire-resistance of exposed timber and engineered wood products such as:
glued-laminated timber (glulam);
structural composite lumber (SCL); and
CLT.
AWC Technical Report (TR) 10, Calculating the Fire-Resistance of Exposed Wood Members, gives background and examples for this method. The Component Additive Method (CAM) for wood frame assemblies, developed decades ago by the National Research Council of Canada (NRC), has additionally become well-established in the code and is widely used today (see AWC Design for Code Acceptance [DCA] 4).
The building code also permits fire protection engineering analyses based on test results for various assemblies and protected elements. This option can be used to establish fire-resistance without the need for new testing. However, new testing is still essential to the continued advancement of fire research in wood construction. (AWC has previously sponsored tests for heavy timber elements protected with gypsum membranes, and results were published in a 2009 white paper, "Fire Resistance of Wood Members with Directly Applied Protection" by Robert H. White, a research wood scientist for the U.S. Department of Agriculture (USDA) Forest Service.)