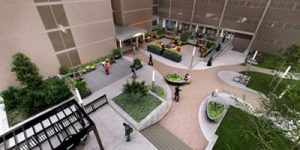 The University of Pennsylvania (UPenn) has embarked on a redevelopment project with the help of Greystar Real Estate Partners (Greystar), aimed at providing 473 new units of student housing.
The project will provide 588 beds in 473 units of furnished, attainably priced, graduate-focused housing and a rich amenity base designed to serve the needs of today's UPenn graduate students.
Greystar has united with the local Philadelphia team of Barton Partners Architecture and Hunter Roberts Construction Group to complete a comprehensive renovation and modernization of Sansom Place East, while maintaining the exterior design integrity. This approach will create best-in-class housing for UPenn's graduate student population while maintaining Richard and Dion Neutra's original architecture.
The redeveloped Sansom Place East will provide complete bed-to-bath parity, wherein each bed will have a corresponding private bathroom, including in the two-bedroom units. Each of the 473 units will also have its own washer/dryer. Greystar will be delivering more than 1115 (12,000 sf) of state-of-the-art amenity space to include a fitness center, co-working lounges, a test kitchen, study rooms and large multi-function rooms. Additionally, Greystar will fully renovate the existing outdoor plaza with a deck, landscape, hardscape, and seating along with an indoor-outdoor connection to the new amenity space.
Adjacent to the Sansom Place East property, the existing occupied commercial retail at street level and the Philadelphia Institute of Contemporary Art will remain open during construction.
Construction for the project began in January, with an opening in time for the beginning of the 2023 to 2024 academic year.