Urban edible gardens: Open doors for learning
March 21, 2019
by Bruce Davis, AIA, LEED AP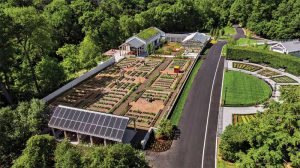 To meet the growing interest in urban vegetable gardening and raise awareness of healthy eating and food self-sufficiency, several organizations are constructing buildings and sites devoted to the 'edible education' trend. From greenhouses built atop schools and local efforts, such as the Baltimore Urban Gardening with Students (BUGS), to curriculum developers such as the Edible Schoolyard Project led by farm-to-table chef and activist Alice Waters, varied groups are forging ahead with new programs. To support the new concepts, emerging architecture and landscape designs are underway around the country.
One of the most closely watched projects of this kind has been the New York Botanical Garden's (NYBG's) Edible Academy, a new and expanded campus designed by Cooper Robertson (this author's firm) for the institution's Children's Gardening Program. The new facilities making up the Edible Academy support significantly expanded programs for children as well as teachers, families, and other adults. The resulting teaching center focuses on the fundamental relationships between plants, gardening, sustainability, cooking, nutrition, and health.
The development of this new academic complex, including a collection of indoor-outdoor gabled structures connected by expansive teaching and display gardens, offers several lessons in creating sustainable nutrition education centers as well as techniques to help support the awareness and accessibility of urban farming. These findings and model practices for designs supporting them are of much interest today and range from siting and accessibility needs to recommended materials specifications and applicable systems such as photovoltaics (PVs), green roofs, and geothermal heat pump systems.
Key project drivers
One overarching goal of the Edible Academy's design has been to reveal the features in the natural landscape that are not readily visible. The project, sited to highlight its magnificent setting, opens up views down a steep wooded gorge to the Bronx River and its waterfall, and to one of New York City's largest uncut expanses of old growth forest. The natural topography of the site also provided opportunities to create a 350-seat outdoor amphitheater, and to highlight natural rock outcrops.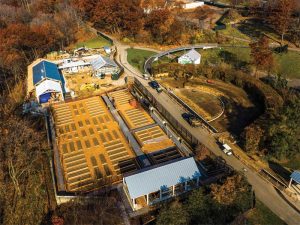 Such natural conditions also present obstacles for siting buildings and developing suitable urban landscapes for educational and gardening uses. To build on the edge of the steep slope and around large amounts of rock located close to the surface of the site, the project team elected to utilize the existing foundations of a former storage structure for the Edible Academy's new classroom building. This avoided excavation in areas with difficult access.
Water systems and site stormwater detention and drainage are fundamental considerations for urban farming projects. Proper grading, infrastructure, and accommodations for wastewater discharge, as needed, must be considered in the site and landscape design.
Although located in the highly urbanized borough of The Bronx, the area of NYBG encompassing the Edible Academy project site had no sewer system nearby and rocky soil, resulting in insufficient space for a septic discharge system. Due to these constraints, the project team applied for special approvals from New York City's buildings department to use a composting toilet system. The department was receptive to this sustainable approach and its important environmental benefits.
The composting toilet system uses modern aeration and filtration technology to transform organic waste into clean compost, reducing its volume by more than 90 percent. The composting toilets, in addition to low-flow faucets utilized in the new facilities, reduce water consumption while also protecting watersheds. Additionally, leaching galleries are employed to collect wastewater from sinks and direct it into the ground, providing sustainable solutions to overcome significant site constraints.
Along with the challenges of the site, there were also advantages. For example, the subsurface rock presented optimal conditions for installing a geothermal system, which was selected as the main source of heating and cooling in this project. The system was designed with mechanical, engineering, and plumbing (MEP) engineers Kohler Ronan.
To the engineer's and architect's specifications, construction crews led by EW Howell drilled eight new wells reaching as deep as 142 m (465 ft) below the surface. The benefits of the geothermal heat pump system are significant. The application of heating and cooling effectively harnesses the temperature differential between the surface and the deep well borings, delivering an economical and sustainable heat source in winter and serving as a heat exchanger in summer.
Other challenges include creating child-friendly learning facilities—both indoors and outdoors—accessible to users of all abilities, including surfaces appropriate for wheelchair movement. Building materials and finishes for garden structures were selected to be appropriate to their use and long-lasting, complementing the site and context. Inspired by the agricultural vernacular of barns and sheds, the Edible Academy responds to its natural setting with simple gabled roofs, glue-laminated (glulam) wood structures, and extensive fenestration to allow views to the gardens and surrounding landscape. These share a design sensibility with NYBG's Leon Levy Visitor Center, and the outdoor pavilion in its 1.4-ha (3.5-acre) Native Plant Garden, completed in 2013.
Accessibility
Engineered wood fiber (EWF) was specified to meet accessibility requirements and serve visitors of all abilities in the teaching gardens, while also allowing for permeable surfacing required for site drainage and stormwater management. This fiber is increasingly used for playgrounds and is similar in appearance to mulch or wood chips. EWF is often preferred over rubber mulch in many circumstances due to its improved safety and accessibility performance. EWF is also employed as a high-performance material for area borders, wear mats, drainage systems, geotextiles and, in some cases, blown-in insulation.
The fiber in EWF is made from virgin wood and must meet safety standards like ASTM F1292, Standard Specification for Impact Attenuation of Surfacing Materials Within the Use Zone of Playground Equipment, and purity testing such as in ASTM F2075, Standard Specification for Engineered Wood Fiber for Use as a Playground Safety Surface Under and Around Playground Equipment. For wheelchair access, the baseline characteristics are laid out in ASTM F1951-14, Standard Specification for Determination of Accessibility of Surface Systems Under and Around Playground Equipment. It applies to all types of materials and surfaces and also establishes wheelchair work measurement methods including the straight propulsion and turning to confirm compliance for meeting minimum accessibility. However, it is not a safety standard. For EWF landscape surfacing, manufacturers will commonly have their testing certified by the International Play Equipment Manufacturers Association (IPEMA), a nonprofit trade group for various products and materials.
THE EDIBLE ACADEMY
Conceived as a collection of indoor-outdoor gabled structures connected by expansive teaching gardens, the Edible Academy in New York City combines simple building elements inspired by vernacular forms of agricultural barns and sheds surrounded by display and teaching gardens.

The heart of the Edible Academy is a child-friendly classroom building that includes a demonstration kitchen classroom and a technology lab. The demonstration kitchen classroom has a large glazed overhead door opening onto the Pauline Gillespie Gossett Overlook Pavilion, creating flexible indoor and outdoor spaces to accommodate educational programs, cooking demonstrations, and seated outdoor dinners. The pavilion also creates a front porch for the Edible Academy with a deck perched high over the Bronx River gorge.

Connected to the classroom building and sited to receive maximum sun exposure, the greenhouse serves as a potting and propagation area as well as a teaching space, with winter temperature control and a shading system.

The freestanding, open-air solar pavilion, located at the southern end of the new campus, welcomes students and teachers with a comfortable, shaded gathering place for many of the academy's garden-based education lessons.

These building elements surround and define teaching and display gardens that make the Edible Academy an instructive and enjoyable outing for children and families. The garden elements include the Ruth Rea Howell Vegetable Garden, the Royce Family Meadow Garden with its winding paths through a selection of native perennial shrubs and herbaceous plants, and the Barnsley Beds, a formal vegetable garden of ornamental plantings. Rounding out the new complex are essential support facilities including a service yard, tool shed, nursery, and compost station.
Porous stone paving materials also combine improved accessibility with good drainage characteristics. These include resin-bonded surfaces, typically composed of aggregates such as gravel, granite, or recycled glass, combined with a single-element, moisture-curing liquid for a resilient long-term bond. Other paving materials include pervious (or permeable) Portland cement concrete and asphalt concrete. For the Edible Academy, Cooper Robertson matched an NYBG standard using gravel troweled into place with a polyurethane binder, creating a durable and eco-friendly surface. The clear bonding material selected is ultraviolet (UV)-stable and installed on a supporting grid to even out loads and improve longevity.
Material specifications
In addition to the site materials, Cooper Robertson and the project team developed several sustainable, high-performance solutions to meet the unique needs of this project's indoor-outdoor, active-use occupancies. The glulam timber structures of the 492-m2 (5300-sf) Edible Academy classroom building are enclosed with standing-seam metal roofs, fiber-cement siding (a durable, low-maintenance alternative to painted wood), and steel windows. The team considered the life-cycle cost implications of various fenestration systems and determined top-of-the-line steel windows, rather than light aluminum frames, would better serve NYBG's objectives. With thinner mullion and frame profiles these windows were not only more durable, but also most appropriate to meet the design intent.
Materials and systems selected for the buildings and grounds of the Edible Academy also include:
low-iron insulated glazing system with a low-emissivity (low-e) coating;
an overhead garage door with glazed panels;
polished concrete floors; and
birch plywood millwork with high-impact countertops fabricated from quartz, resin, and other hard materials.
Other building systems providing ongoing teaching opportunities include an extensive green-roof, a PV array, and a proprietary greenhouse system.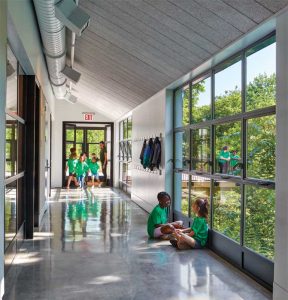 Making urban farms sustainable
Recognized as a leader in institutional sustainability, NYBG seeks to minimize impacts on regional and municipal services, including the electric grid, water resources, stormwater systems, and waste. Building modernizations and expanded services, such as the new teaching gardens and facilities at the Edible Academy, are designed to make the garden a more sustainable and resource-efficient part of New York City's cultural landscape.
In 2018, the Edible Academy achieved Leadership in Energy and Environmental Design (LEED) Gold certification from the U.S. Green Building Council (USGBC). The site design, led by Cooper Robertson, with Mathews Nielsen Landscape Architects, and civil engineer AKRF, is a model for resiliency and stormwater management. The installed stormwater detention system reduces the quantity of runoff during storm events, while improving the quality of the runoff to the nearby Bronx River. There were also opportunities for ecological stewardship in the teaching gardens with the use of native plants in addition to the vegetables and herbs used for gardening programs and cooking demonstrations.
The vegetated, sloped green roof on the classroom building features year-round displays of various succulents to detain stormwater runoff. It also provides added insulation with higher thermal efficiencies, supporting NYBG's strategy of reducing energy consumption throughout the year.
Energy savings were also achieved with PV panels, daylighting, and energy-efficient light-emitting diode (LED) and compact fluorescent lighting. PV panels are often incorporated in urban farming projects as a green energy source. The panel array on the roof of the Edible Academy's solar pavilion transmits energy to support the facility's electrical needs, serves as a teaching tool on sustainability, and helps reduce operational costs. Additionally, daylighting and energy-efficient lighting in the classroom building help reduce electrical system needs and plug loads over the life of the facility.
None of the individual elements of this new education facility and landscape would be considered extraordinary. Yet, the project serves a vital need and provides a template for similar initiatives. Awareness of good practices like those employed by NYBG presents an instructive case for how other organizations can create similarly resilient, accommodating learning centers to serve communities for years to come.
Bruce Davis, AIA, LEED AP, is a partner at Cooper Robertson, where he directs the programming, planning, and design of cultural and educational projects. His client list includes the Museum of Modern Art, Yale Center for British Art, Florence County Museum, Memphis Brooks Museum of Art, Virginia Museum of Fine Arts, Hammer Museum, Princeton University Art Museum, and City University of New York (CUNY). His design contributions to educational projects have resulted in numerous awards for Cooper Robertson. Davis holds a bachelor of science in architecture from the University of Virginia and a master of architecture from Yale University. 
He can be reached at bdavis@cooperrobertson.com[4].
Endnotes:
[Image]: https://www.constructionspecifier.com/wp-content/uploads/2019/03/NYBG_EdibleAcademy_11_v1_current.jpg
[Image]: https://www.constructionspecifier.com/wp-content/uploads/2019/03/MCO-0783_Courtesy-The-New-York-Botanical-Garden.jpg
[Image]: https://www.constructionspecifier.com/wp-content/uploads/2019/03/NYBG_EdibleAcademy_05_v1_current.jpg
bdavis@cooperrobertson.com: mailto:bdavis@cooperrobertson.com
Source URL: https://www.constructionspecifier.com/urban-edible-gardens-open-doors-for-learning/
---