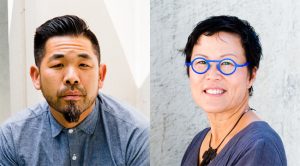 The University of Southern California's (USC's) architecture school, Los Angeles, California, has appointed associate professor Doris Sung as director of undergraduate architecture programs and associate professor Alvin Huang as director of graduate and post-professional architecture programs, effective May.
In their new positions, Sung and Huang will oversee the academic functions of existing and new undergraduate and graduate professional and non-professional degree programs focused on architecture, respectively. Both will work collaboratively with the dean, senior academic administrators, faculty, and students to guide the pedagogical direction of academic programs and associated programming.
"I am excited to announce the appointments of Doris and Alvin as new program directors," said Milton S. F. Curry, dean of USC School of Architecture. "They both bring a wealth of professional and academic design and research experience to these leadership positions and I am confident they will elevate our undergraduate and graduate architecture programs to new levels."
Sung joined USC Architecture in 2006. She opened her own practice, dO|Su Studio Architecture, in 1991 and has received numerous awards for her work. In her research, Sung brings active systems to sustainable design. With the belief that buildings can be more sensitive to the changing environment like human skin, Sung is currently developing smart thermobimetals to self-ventilate, self-shade, self-structure, self-assemble, and self-propel in response to changes in temperatures—all with zero energy and no controls. She received her M.Arch from Columbia University and her B.A. in architecture from Princeton University.
A USC Architecture alumnus and the founder and design principal of Synthesis + Architecture, Huang joined USC Architecture in 2011. He is an award-winning architect, designer, and educator specializing in the integrated application of material performance, emergent design technologies, and digital fabrication in contemporary architectural practice. His work ranges from high-rise towers and mixed-used developments to temporary pavilions and bespoke furnishings. He received his M.Arch from the Architectural Association and his B.Arch from USC.