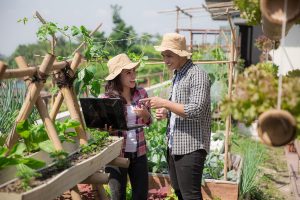 International landscape architecture and urban design firm SWA Group has released a list of 10 ways integrating agriculture into landscape design can help communities thrive and increase project values.
"We are working on several projects that explore methods of integrating agriculture and community in a win-win relationship that allows farming to be sustained in an economically challenging environment and community members to live close to their food," says SWA principal Andrew Watkins.
Daron Joffe, director of agricultural innovation and development with the Leichtag Foundation, is working with SWA on the group's agriculture efforts. He is an advocate of the "citizen farmer" concept: helping people see themselves as farmers by inspiring them to grow something.
"Farming nurtures us as individuals, which in turn nurtures community," says Joffe.
Below are 10 ways integrating agriculture can add value to a landscape project, according to SWA.
Anchor a community by providing a sense of identity
Reduce environmental impact
Increase local business
Encourage healthy food and exercise
Offer residential farming options
Provide shade in hot climates
Act as a fire break in drought regions (employing orchards)
Promote agricultural education
Invite community involvement
Provide new models of economically sustainable farming