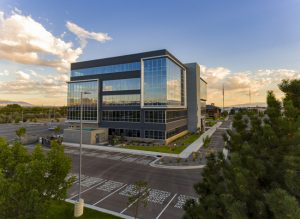 The Sandy Commerce office building in Sandy, Utah, boasts floor-to-ceiling glass with mountain views with its high-performance storefront, curtain wall, and entrance systems. The building sits on a prominent location near a major highway with a modern glass and metal façade that is as appealing on the exterior as it is to occupants on the interior.
The five-story, 11,237-m2 (120,958-sf), Class A building was designed by Salt Lake City-based Babcock Design.
"A sleek, modern façade captures the reflection of the surrounding mountains to passersby," describes Chad Littlewood, AIA, Babcock Design's project architect. "Floor-to-ceiling glass and an open floor plan provide all employees with natural light and beautiful views. Likewise, low-emitting [low-e] materials found throughout the building provide occupants with maximum health and comfort."
Glazing contractor Skyview Glass worked closely with the general contractor (GC) Jacobsen Construction on the project. In total, Skyview installed 3252-m2 (35,000 sf) of curtain wall, thermal storefront, and entrance systems, and distinctive shadow boxes.
Welcoming tenants and visitors are monumental doors with steel tie-rod construction, engineered to withstand heavy use in high-traffic areas.
On Sandy Commerce, the 17 doors with 254-mm (10-in.) bottom rails are engineered for easy installation into the storefront at the street level. Above this, Skyview's Tom Tromley explains the curtain wall and storefront are integrated throughout all elevations and even within the same floors. On the east, the curtain wall dominates on floors three through five, on the west and north, in floors three and four, and on the south in floors two through five.
Sandy Park also features low-e glass and clear anodize, which creates a frosty matte appearance, hides small defects common in recycled aluminum, contains no volatile organic compounds (VOCs), and meets or exceeds all American Architectural Manufacturers Association (AAMA) 611, Voluntary Specification for Anodized Architectural Aluminum, specifications.
The high-performance systems also helped the project earn the Leadership in Energy and Environmental Design (LEED) Silver certification.