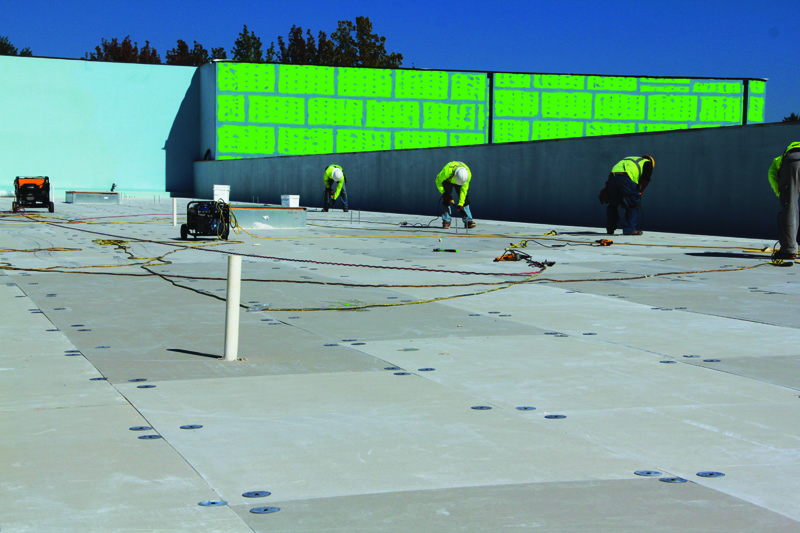 Best practices for installation
Installing a coverboard that works with a roofing system is the easiest way to increase energy savings and protect the roof from damage caused by maintenance, weather, or other natural elements. Coverboards can be completely adhered or fastened to the existing substrate, and should be set over the topmost insulation layer. When properly installed, adding a coverboard between the membrane and insulation introduces another layer, minimizing risk of damage to a roof system.
When installing a coverboard, it is important to ensure the roof is free of any moisture, as it is imperative for the roof insulation to be kept completely dry at all times. With this in mind, it is best to avoid installing coverboards during times of inclement weather, including rain. Any moisture leaking into a roof assembly not only damages the insulation and coverboard, but it could also damage the entire roof by decreasing the R-value, rusting the mechanical fasteners and/or deck, delaminating the membrane, and ultimately voiding the roof warranty.
The edge joints of the coverboard should also be staggered in adjacent lengths or offset from layer to layer in relation to the insulation, as this will help to avoid vapor movement and decrease thermal bridging. It is best to only select and install fasteners or adhesives in strict compliance with the roof system manufacturer's installation recommendations, because some non-compliant options could adversely impact the roof. Proper fastener spacing is also crucial to achieving wind-uplift performance by aiding the coverboard in providing a strong, high-performing layer of protection.
Before proceeding with installation, it is always important to take into consideration and refer to the manufacturer's written instructions. Design/construction professionals should also be sure to review any local code requirements to ensure proper installation and design. Further, one should seek out building materials put through rigorous testing to verify the intended performance. For example, Factory Mutual Global (FMG) and UL are two world-renowned product testing services trusted by contractors, builders, and manufacturers. Materials certified and approved by third-party testing agencies reveal whether the industrial or commercial product will grant the highest level of safety and resilience.
Taking these steps to ensure proper installation will help reduce risk of loss or damage due to fire, weather, or equipment failure, and drive the long-term success of a roof system.