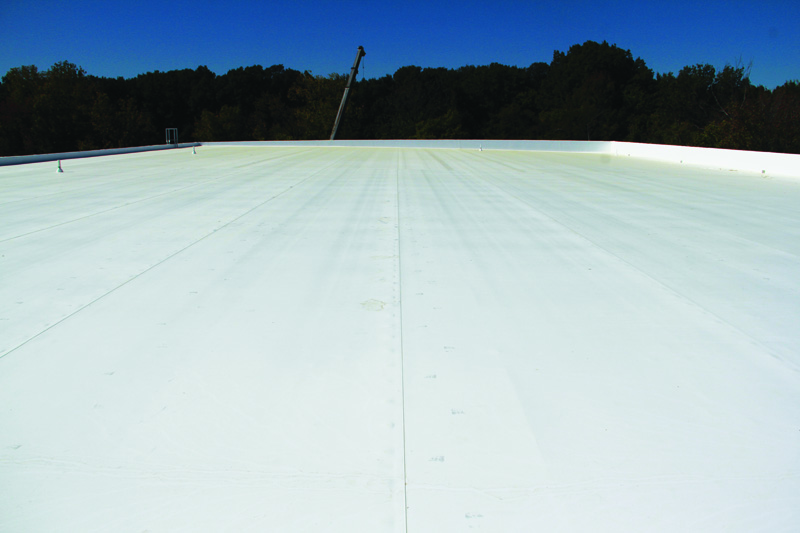 Improving a building with coverboards
It is clear coverboards provide many benefits when included in a roofing system, and there are a variety of boards available to meet project needs. High-performance coverboards—gypsum-fiber, glass-mat, gypsum, and cement—typically perform much better than others. They are strong, have higher fire properties, and are dimensionally stable. Knowing which coverboard is right for a project is important, because they all have different benefits.
Gypsum-fiber coverboards
These coverboards are homogeneous gypsum-fiber panels with no facer on the face or back. They are high-strength, fire- and impact-resistant, and perform well in high-wind zones. These boards provide exceptional bond and low absorption in adhered systems, and offer sustainable design for all types of roofing systems, including single-ply, fluid-applied, built-up (BUR), sprayed polyurethane foam (SPF), metal, and modified bitumen (mod-bit) roofing. As a result, they can help contribute toward a project becoming accredited under the Leadership in Energy and Environmental Design (LEED) program.
Glass-mat gypsum coverboards
These coverboards are made of a gypsum core with a glass-mat facer on both the face and back of the board, and have high strength and fire resistance. The strength comes from the glass facer and fire resistance is a natural property of gypsum. Additionally, these boards have high moisture and mold resistance. They work well in all roofing systems, including single-ply, fluid-applied, SPF, metal, and modified bitumen.
Cement coverboards
These typically contain a cement-aggregate core and a glass scrim for strength. They are high-strength, fire- and impact-resistant coverboards that perform well in environments with high humidity.
High-density insulation coverboards
Containing a high-density polyisocyanurate (polyiso) core and a glass facer on the face and back, these are lightweight coverboards with added R-value. They work well in all roofing systems.
Each of the coverboards mentioned in this article has inherent strengths, and each is ideal for different projects. The project type, environment, and immediate surrounding area are three factors that should be considered when selecting a coverboard. Making the appropriate decision increases the building's longevity immensely.
Architects and specifiers should take steps to thoroughly research the different types of coverboards to learn which can be applicable in their next projects. If adding a coverboard to a building is the difference between its destruction and its resilience, the benefits outweigh the costs.
Derrick Hutchinson is a product manager for USG Roofing Solutions. He has more than 10 years of experience in building product development and system evaluations. Hutchinson is a member of National Roofing Contractors Association (NRCA), RCI, Single-ply Roofing Institute (SPRI), Asphalt Roofing Manufacturers Association (ARMA), and ASTM. He graduated from the University of Illinois at Chicago with a degree in physics, and prior to taking on the product manager role, was a senior researcher at USG's Corporate Innovation Center. Hutchinson can be reached via e-mail at dhutchinson@usg.com.