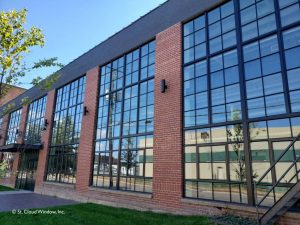 Vandalia Tower in St. Paul, Minnesota, recently completed a renovation to meet the modern needs of its commercial, nonprofit and artistic tenants, and the approval of the State Historic Preservation Officer and National Park Service.
To maintain the 1920s, industrial, brick building's architectural heritage, the property owner sought to replace the broken and missing windows with ones that replicated the look of the original, large, steel-framed, divided lite appearance with new units that would improve energy savings.
Helping meet both the project's aesthetic and performance requirements, Linetec finished 290 aluminum-framed replacement windows manufactured by St. Cloud Window. NewStudio Architecture specified these products with a durable 70 percent polyvinylidene fluoride (PVDF) resin-based finish in black to resemble the color of old steel windows.
Architectural extrusion coatings were also applied to meet the industry's specification standard, AAMA 2605. The painted coatings exhibit resistance to humidity, chalk, gloss loss, and chemicals to ensure a long lasting, black finish without fading.
St. Cloud Window also manufactured 214 units as fixed windows with an additional 76 supplied as awnings. The units were mulled together and installed by S&J Glass within Vandalia Tower's expansive openings.
Throughout the North elevation, window openings stretch more than 6.1 m (20 ft) high and span 4.2 m (13.75 ft) wide. The combined units replicate the original columns of three layers, stacking fixed over operable outswing windows.
The new windows' muntin grids simulate the former true divided lites, massive, insulated glass units provide uninterrupted views with improved performance for thermal, structural, and water resistance.