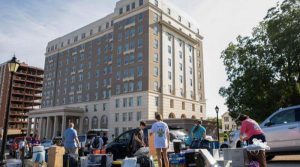 The Longwood University in Farmville, Virginia, has reopened Frazer Hall, a mid-century dormitory building. This facility was identified as a priority renovation project in architecture and urban design firm Cooper Robertson's 2017 master plan for the university.
The firm's analysis uncovered opportunities for a carefully choreographed, 18-month transformation that eliminated needs for temporary 'swing space' student housing. The master plan has helped save Longwood University an estimated $20 million. Additionally, a phased renovation of the second building, Curry Hall, has now begun.
"Longwood University expects their student population to grow by 25 percent in the next five years, so improving Frazer Hall and Curry Hall was one of the most critical early ideas brought out from the master plan," says Cooper Robertson partner John Kirk, AIA. "University calendars dictate design and construction schedules, and identifying this work as a priority early in the planning process helped campus leaders to evaluate options and see how repositioning would save time and money in terms of the demolition and new construction work."
For the renovation of Frazer Hall, the design team, which includes the firms Little Diversified and Franck & Lohsen, preserved the building's steel structure, adding new windows and prefabricated, panelized brick façades that speak to Farmville's architectural heritage. Entirely reconfigured interior spaces offer students larger residential suites and more extensive common areas, reflecting today's student needs.