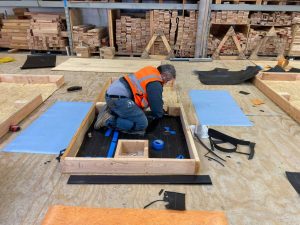 INSTALL, the floorcovering installation training and certification firm in Washington, D.C., will be updating its resilient flooring and carpet certification standards to accommodate crucial industry advancements in installation methods and material preferences.
One of the most significant changes to INSTALL's resilient flooring certification standards is the increase in mock-up sizing. To accommodate for the enormous growth in LVT and LVP installations, which form a large component of the certification, INSTALL has doubled the size of the space provided for tile and plank installations, allowing installers more practice area. For stair installation, the number of steps provided for training have also been increased from two to four. Additionally, to meet the commercial demand for glue-down flooring, the new glue-down certification mock-up has doubled in size and incorporates additional seaming and border inserts around the carpet. The glue-down certification standards also include evaluation of preparing the substrate, and cutting, fitting, and seaming of materials.
Another important feature of the new resilient flooring certification standards focuses on providing installers with a greater depth of knowledge for sheet vinyl welding transitions, in particular seaming transitions. Installers now perform an east-to-west welding transition that meets a north-to-south welding transition, in addition to accent seam welding.
Another critical update to the course is to incorporate training for the more challenging millwork base installation, which has replaced the previous vinyl cove base installation. Instructors have doubled the drain cut outs and added three more pipe intrusions for installers to learn precise cutting skills, to accommodate for plumbing projects in commercial or bathroom installations. Also, due to COVID-19 safety guidelines, personal protective equipment (PPE) knowledge and compliance is a part of course certification requirements now.
The final change to carpet installation standards reflects a particularly difficult challenge. Installers must learn to complete a 90-degree, mitered, metal transition, to gain the expertise and skill possessed by proven and dependable professional installers.