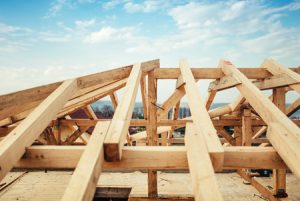 Earlier this fall, the Washington State Building Code Council (SBCC) approved code changes that will allow for the structural use of mass timber in buildings as tall as 18 stories. This makes Washington the first state in the nation to allow tall mass timber buildings into its building code, without pursuing an alternate method.
The code changes will update the International Building Code (IBC) 2015 to incorporate all of the International Code Council's (ICC's) Tall Wood Building Code proposals voted on in Richmond, Virginia, in October 2018. It will permit three new types of mass timber building construction—Type IV A, B, C—allowing for the structural use of mass timber at 18, 12, and nine stories. The action comes after more than two years of comprehensive research and testing, including full-scale fire tests, completed by the ICC's Ad Hoc Committee on Tall Wood Buildings.
"There has been considerable and growing excitement around mass timber for years, especially due to its aesthetic and technical performance traits. However, like any new building system, it has taken time for the building code to catch-up and recognize the potential of mass timber.  This code change does just that for Washington State and finally allows mass timber buildings to realize their potential, grow up and revolutionize the way we design and build," said Joe Mayo, of the architectural firm Mahlum Architects.
Several mass-timber projects below six stories have been completed in Washington in recent years, including a set of pilot cross-laminated timber (CLT) classrooms funded by the State of Washington. Now, with approval of these code changes, taller wood projects like Brock Commons at the University of British Columbia can move forward. An 18-story wood-hybrid building, Brock Commons was completed in less than 70 days after the prefabricated components arrived on site—four months faster than an average project of this size.