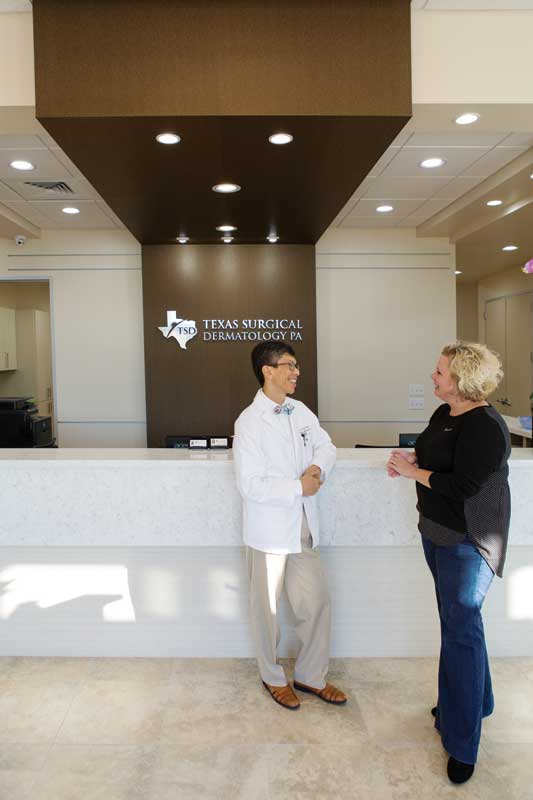 Mass wall assemblies
Mass wall assemblies—mainly CMU and tilt-up concrete panel construction—are appealing to medical office building owners and specifiers because they simplify wall construction. The fluid-applied vapor barriers used on mass walls perform better than the sheet-applied vapor barriers used on LBAs, due to the fact that the wall is more rigid. This can lead to reduced air infiltration and improved IAQ. The mass of wall also eliminates dissimilar radiant temperature differences between interior and exterior surfaces, thereby increasing thermal comfort. Finally, the mass reduces transmission of noise from outside to inside, improving privacy and ease of communication for patients and their caregivers.
Still, many of the challenges that occur with LBAs are also present in mass wall assemblies. Often, a second wall of metal studs is installed over continuous insulation to provide an attachment point for interior or exterior finishes. This second wall is not needed for overall performance, but nonetheless adds an extra step that increases construction and coordination time. The overall construction schedule and sequence is significantly affected.
Mass wall assemblies are considered the baseline enclosure system for medical office buildings, as they exhibit the qualities required for air, acoustics, thermal, and energy performance. This enclosure system is solid, performing well thermally and acoustically, and there is less chance one trade will impact the performance of the wall. However, this assembly takes more time to construct and is more expensive than LBAs. That being said, as owners look beyond initial costs, its long-term benefits overcome these drawbacks, making it suitable for use as a baseline system.
Composite wall assemblies
Despite mass wall assemblies' advantage over LBAs, the fact remains these systems were never designed to meet the requirements for high-performance building envelopes. They both fail to take advantage of the potential that comes with designing a system specifically to address air, acoustic, thermal, and energy performance from the outset—unlike the newer composite materials beginning to gain traction.
A relatively new entry to this market is the insulated concrete block. It is specifically designed to address the main weaknesses found within both LBAs and mass wall systems, such as the inherent complexity that comes with multiple layers of materials installed by multiple trades.
An insulated concrete block integrates continuous insulation within the masonry unit. Once in the field, one trade is required to install the system, with only one other needed to apply the air/vapor barrier. Once filled with concrete, the wall system is considered complete, and the addition of finish materials to the inside or outside of the wall have little to no impact on its overall performance.
With these characteristics (minimal trade involvement and material requirements, along with effective insulation), all the performance criteria of medical office buildings can be achieved. By specifying insulated concrete block, specifiers can remove most of the barriers inherent to specifying walls for high-performance envelopes. Walls of these materials can be constructed more quickly, with fewer trades to coordinate, and often at a lower cost than more traditional assemblies. Further, they can perform better.
Insulated concrete block has been predominantly used in the South, Southwest, and Pacific West portions of the United States, but is ideal for use in many other parts of the country. It meets 2015 International Energy Conservation Code (IECC) requirements for wall insulation in climate zones one through five, including areas containing a significant majority of the U.S. population. Insulated concrete block also provides significant windstorm protection for projects located in hurricane- and tornado-prone areas, which includes the central plains, Gulf Coast, and East Coast of the United States. Projects in all areas can benefit from the fire safety, healthiness, and comfort provided by insulated concrete block.
Only extreme temperatures affect the installation of this material, as with all other types of concrete construction. The stacking of the block is limited to the foam adhesive application temperature limits (-4 to 49 C [25 to 120 F]), and the concrete pour is limited by American Concrete Institute (ACI) standards for especially hot or cold days.
The biggest challenge to widespread adoption of insulated concrete block and other composite materials is the change required from those who design, specify, and construct buildings. Construction is a system whose commodity pricing relies on people who are more willing to take on financial risk if they can control the outcome. Education, experience, and expertise are needed throughout the specification and bidding process to ensure composite materials can be adopted by the contractor.
By understanding the simplicity that comes with composite materials, specification writers can help owners, designers, and contractors understand how this solution—new or otherwise—can be the best way to achieve mutual success.
Beyond medical office buildings
Owners of medical office buildings may well be at a tipping point for increased performance criteria. These buildings' unique purpose—the care and nurturing of human life—prompts owners to lay the groundwork for healthy, productive, and energy-efficient building construction standards.
However, other building types can likewise realize the potential of exploring a more simplified building product. Offices, retail buildings, assemblies, and public facilities can also benefit from spaces that address air, acoustics, thermal, and energy performance criteria. Specification writers who understand the demand for performance, the performance criteria that meet that demand, and how composite materials can be used to control building outcomes will be poised to ride the wave of sustainable and healthy buildings for years to come.
Paul Brown, MBA, LEED GA, is president of Bautex Systems, a manufacturer of insulated concrete block for building envelope and other wall systems. He writes about design and construction of mass wall systems to meet new energy and life safety codes for commercial and residential buildings. Brown is also a board member at-large for the U.S. Green Building Council (USGBC), Texas chapter. He can be contacted via e-mail at paul.brown@bautexsystems.com.