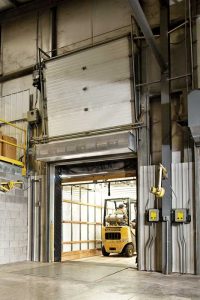 Employee comfort also comes into play when insects, such as flies and yellow jackets, are prevented from entering and hassling workers. Air curtains are also a pesticide- and chemical-free way of preventing flying insects from entering interior environments—especially in food processing plants, restaurants, food service outlets, and other applications where sanitation is critical. Both the United States Department of Agriculture (USDA) and the National Sanitation Foundation (NSF) recommend air curtains because most flying insects are unable to penetrate its airstream.
 The use of energy savings calculators
Until recently, ROI was all guesstimates. Now, new advances allow manufacturers to use energy savings calculators, which are user-friendly and online energy savings estimation tools accessible from any web browser, for a quick ROI payback calculation and air curtain selection. These calculators enable facility managers, architects, consulting engineers, contractors, and manufacturer's representatives to input their door dimensions, using times, local energy rates, and other data for energy savings.
On some manufacturer websites, these tools are free and quite advanced. Users can choose between Climate Data Online (CDO) and associated utility rates or manually enter their own weather data. Users can also manually select an air curtain model or use the embedded air curtain selector's program suggestions. Some programs are based on loads calculated from generalized customer input, such as Typical Meteorological Years (TMY2) and the American Society of Heating, Refrigerating and Air-Conditioning Engineers (ASHRAE) calculators. Hence the air curtain efficiency used to determine the payback period is based on accepted theory, laboratory, and field tests. For example, a shipping door in St. Louis, Missouri, which opens for two hours every day, would generate an energy savings of $1200 by separating the indoor and outdoor environments at the doorway with an air curtain, according to one energy savings calculator (Figure 1).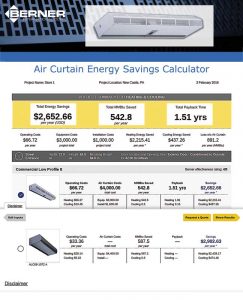 Aside from an energy savings calculator, manufacturers request multiple site surveys from prospective end-users. Site survey information often includes humidity, temperature, number of doors and their dimensions, cycles per day, duration of a typical door opening, function, and other data.
 Getting the most benefits from air curtains
The most important thing with air curtain installation is ensuring the selection adequately covers the doorway width and operates with enough velocity to cover the height. Within seconds of the door opening, the immediate operation of the air curtain prevents 70 to 80 percent of air infiltration into the building. Larger doors generate a quicker payback and higher ROI because of the potential for more energy losses.
The doorway height is the most common indicator for air curtain sizing. Shipping doors tend to be 3.6 to 4.3 m (12 to 14 ft) high; although there are several air curtains that can accommodate 2.4 x 2.4 m (8 x 8 ft) and 3 x 3 m (10 x 10 ft) doorway openings, including those beyond 4.3 m (14 ft) high.