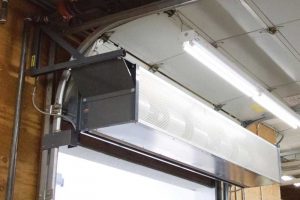 When properly maintained, air curtains from reputable manufacturers typically last for 20 years or more; however, not all air curtain performance statistics are reliable. When a manufacturer's claimed specification and the product's actual performance statistics vary, the protection of a doorway can be substandard in efficacy. For example, an engineer might specify a particular discharge cubic feet per minute (cfm), but an overstated specification in a manufacturer's catalogue might result in poor performance, and lost energy saving potential.
The VVU of the air stream is a critical factor in an air curtain's effectiveness; therefore, it is important for air curtains to perform up to manufacturers' specifications. The Air Movement and Control Association International (AMCA International), a not-for-profit organization that evaluates and certifies fans, blowers, air curtains, and other air movement devices, created a test standard to assess air curtains and certify their performances. To assure an air curtain meets minimum standards, it should bear the seal of AMCA Standard 220, Laboratory Methods of Testing Air Curtain Units for Aerodynamic Performance Rating. This test is now an American National Standards Institute (ANSI) standard.
Installation and maintenance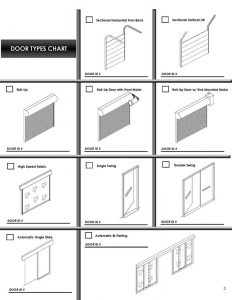 An end-user can buy the best air curtain with reliable performance specifications, but if it is not installed correctly and maintained well, it will not perform up to expectations. The back of an air curtain should be installed as close to the wall as possible, and the bottom of the air curtain should be even to the top of the door opening. Due to various door opening methods, this fundamental can sometimes present installation challenges. Consequently, it is important to choose a manufacturer who can offer a multitude of accessories to circumvent obstacles and prevent potential air flow blockages. For example, protruding roll-up door mechanism cannisters across the doorway top might leave little or no room to position an air curtain in its traditional location directly above the opening. Horizontal turn-back and vertical lift sectional doors may offer the same challenges with clearance (Figure 2).
Some manufacturers provide accessories and even customize air curtain supports to fit a particular door mechanism application. Another important accessory is automation. Automatic door limit switches should be employed to avoid human intervention, such as unnecessarily turning off the air curtain. A manual override switch can offer workers activation access for air circulation or supplemental air comfort heating (if the unit has heating capabilities). Heating can also be controlled by a thermostat and delay feature.
Air curtains are easily installed, even when support accessories are required. Most facility maintenance departments, mechanical contractors, and electricians are qualified to mount and connect them. Some manufacturers with continuous construction models can ship air curtains in one piece with no assembly required, except for larger width doors, where two or more units can be combined. Most units can be installed in well under a half-day once power, steam, or hot water is supplied to the door location.
Beyond shipping doors
Pick-up doors, or sometimes referred to as pedestrian doors (0.9 m [3 ft] wide x 2.1 m [7 ft] high), where couriers deliver and pick-up small orders, can also benefit from air curtains designed for smaller opening protection duties. Most manufacturers specialize in pedestrian door air curtains because they are popular in back door operations of food service, retailers, and restaurants, as well as entry vestibules. For these establishments, they save energy, provide air comfort, minimize second-hand outdoor cigarette smoke, vehicle emission, and insect infiltration.
For more front-of-house applications where visual aesthetics are important, manufacturers also offer stainless steel cabinetry to match doorway frames or custom colors to match interiors or even corporate colors.
Notes
1 Refer to this study conducted at Cornell University in 2004, ergo.human.cornell.edu/Conferences/IEQProd01.pdf

Author
Michael Coscarelli has a B.A. in business and marketing from Indiana University of Pennsylvania and has been with Berner International, located in New Castle, Pennsylvania, for 37 years. He is currently the 61-year-old air curtain manufacturer's national sales manager.