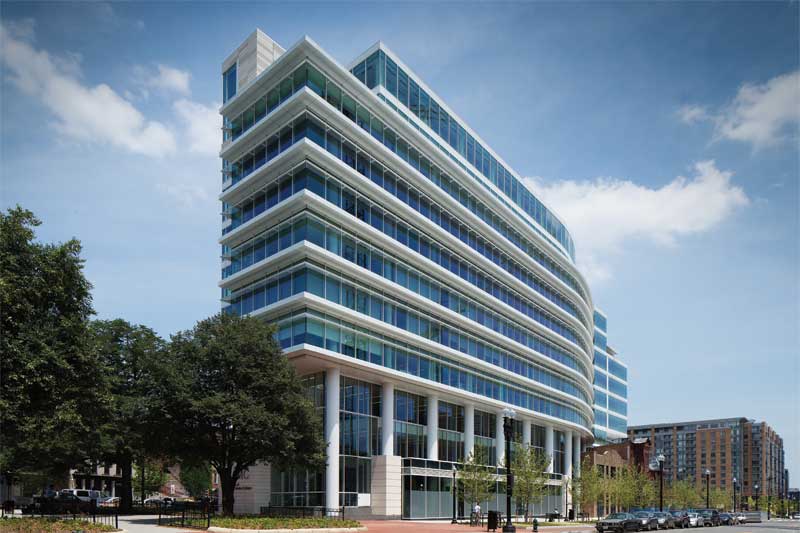 by Philip Frederick, PE, Brian Rose, PE, and Brad Carpenter, PE
'Window wall' has become a common term in the construction industry, typically referring to a large section of glazing installed between floors, or sometimes in vertical stacks, often covering large portions of the building façade. However, what exactly is a window wall, and what do you need to know if it is on your project?
The definitions for window wall, also called a 'ribbon window' in some markets, vary depending on where you look. Several publications describe them as a curtain wall frame containing fixed or operable glazing, opaque panels, or a combination thereof. (Examples can be found with the Dictionary of Construction and third edition [2000] of the Dictionary of Architecture and Construction, as well as the Window and Door Manufacturers Association [WDMA] "The Window Glossary.") However, many glazing manufacturers market window wall products fabricated from individual window units ganged (or 'mulled') together to span between floor slabs and form horizontal bands. Further, the American Architectural Manufacturers Association/Window and Door Manufacturers Association/Canadian Standards Association (AAMA/WDMA/CSA) 101/I.S.2/A440, North American Fenestration Standard (NAFS), defines a window wall as:
a non-loadbearing fenestration system provided in combination assemblies and composite units, including transparent vision panels and/or opaque glass or metal panels.
These definitions all accurately describe possible window wall systems, but there is no industry consensus on what specific glazing system product—window, storefront, or curtain wall (as defined by AAMA)—should be used in window wall applications, and rightfully so. The truth is 'window wall' is a general term describing a common application of a glazing system that can be constructed from several different types of glazing products, which each have relative advantages and disadvantages that must be evaluated for the specific product conditions.
Window walls can be built from:
a storefront product;
a stick-built or unitized curtain wall product positioned horizontally between slabs (as shown at left); or
a combination of two or more individual window units (Figure 1) mulled together in a horizontal or vertical configuration between slabs.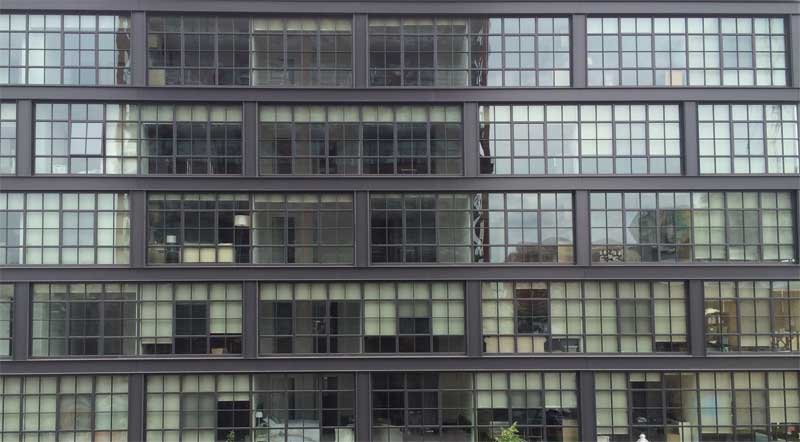 Window walls can also be designed to include fixed and operable lites with other glazing materials aside from the vision glass, such as opacified panels (e.g. spandrel glass, metal panels), louvers, and other materials 'glazed' into the system.
The market appears to be trending toward window wall systems because the system can essentially allow the entire enclosure assembly (except the slab edge cover assembly) to be provided by a single subcontractor, offering potential cost savings beyond traditional curtain wall products. Many of the industry's window and curtain wall manufacturers recognize this trend and now offer specific glazing system products marketed as 'window walls.' It should be no surprise such assemblies are actually a collection of window, storefront, and curtain wall products engineered and optimized for use in a window wall application between floor slabs.
The intent of this article is not to highlight one particular glazing system product over another, but instead, to clarify the typical products and configurations commonly utilized in window wall applications while also providing insight on performance requirements and expectations. When properly evaluated, designed, fabricated, and installed, each type of glazing system product—windows, storefronts, or curtain walls—can provide reasonable and reliable performance in a window wall application. However, this does not necessarily mean each of these products is easily interchangeable among all possible window wall applications on any given project. Architects, specifiers, owners, and contractors should all be aware of differences in performance, constructability, detailing, and price when evaluating and selecting an appropriate glazing system product.