Winning design team for Florida's onePULSE museum announced
October 31, 2019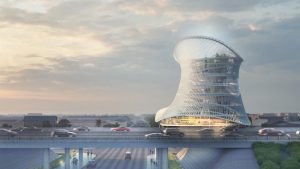 The team of Coldefy & Associés with RDAI, Orlando-based HHCP Architects, Xavier Veilhan, dUCKS scéno, Agence TER, and Laila Farah[2] has been selected to design the National Pulse Memorial & Museum in Orlando, Florida, by onePULSE Foundation[3].
The nonprofit was established to honor the 49 people who were killed, and those affected by the June 12, 2016, Pulse nightclub tragedy.
The winning design was selected from a shortlist of six teams[4].
The design concept from Coldefy with RDAI | HHCP features a reflecting pool encircling the Pulse building, which will be integrated into the memorial design. In memory of the 49 victims, a palette of 49 colors lines the basin and radiates towards a garden planted with 49 trees. The design also envisions a spiraling, open-air museum and educational center with vertical gardens, public plazas, and a rooftop promenade.
A blue-ribbon jury comprising of onePULSE community members, civic decision-makers, global thought leaders, and world-renowned architects selected the winning design. Informed by comments from victim's families, survivors, first responders, and the public, the jury felt the selected design best reflected the interests expressed by the community, demonstrated design excellence, inventiveness, creativity, and alignment with onePULSE's core values.
The winning team's concept design serves as a starting point for discussion and a basis for the design but is not the final, finished memorial and museum. Over the next year, Coldefy with RDAI | HHCP will work to further refine the designs to best reflect community feedback.
Endnotes:
[Image]: https://www.constructionspecifier.com/wp-content/uploads/2019/10/Opener-22.jpg
Coldefy & Associés with RDAI, Orlando-based HHCP Architects, Xavier Veilhan, dUCKS scéno, Agence TER, and Laila Farah: https://onepulsefoundation.org/international-design-competition/coldefy-associes-with-rdai-xavier-veilhan-ducks-sceno-agence-ter-prof-laila-farah/
onePULSE Foundation: https://onepulsefoundation.org/
shortlist of six teams: https://www.constructionspecifier.com/designs-shortlisted-for-floridas-onepulse-museum/
Source URL: https://www.constructionspecifier.com/winning-design-team-for-floridas-onepulse-museum-announced/
---