by Sean D. Browne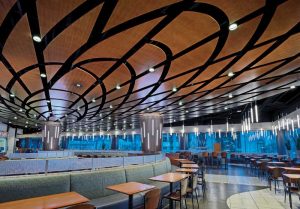 Wood ceilings can not only provide inviting, eye-catching aesthetics, but also effective acoustical control, making them a versatile and functional design element. To obtain the acoustic benefits, the panels must be perforated and backed with a sound-absorbing material.
Designed to impart warmth to a space, wood ceilings continue to grow in popularity. One reason for that is they offer shorter lead times and lower costs than custom millwork. Another is their ability to create a rich, natural, custom look using only standard panels. Third, today's wood ceiling systems are offered in a wider variety of sizes, shapes, and forms than ever before.
By combining beauty with performance, wood ceilings are especially well-suited for use in applications ranging from retail, healthcare, hospitality, office environments, and higher education to lobbies, entryways, and conference rooms. Long popular in European commercial design, this traditional material can impart a visual impact that makes it a focal point in signature spaces.
Wood is also gaining increased usage in 'free-floating' acoustical clouds and canopies, especially in exposed structure applications. In both cases, the cloud or canopy must be perforated and/or backed to obtain acoustical benefits.
Variety of choices
Wood ceilings are made with either real wood veneers or solid wood. Due to all the variations in color, grain, and texture, there are scores of finishes to choose from. In the case of veneers, white oak, light cherry, and dark cherry are the most popular. Custom veneers are also available. The most common solid wood is poplar.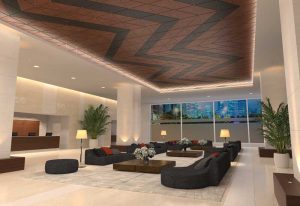 When it comes to sizes, shapes, and forms, the myriad of choices include the following.
Tegular
These are square or rectangular panels in which the face of the panel is lower than the face of the grid. Panel sizes usually range from 610 x 610 mm (24 x 24 in.) to 1219 x 2434 mm (48 x 96 in.). Tegular wood panels are also offered in triangles, trapezoids, and parallelograms as part of a new ceiling system that gives architects the ability to mix and match different panel shapes, sizes, colors, and textures.
Linear
This is offered in either planks, panels, or channeled in veneered wood or solid wood. Plank widths are much narrower than panel widths.
Concealed 
The suspension system is completely hidden for a monolithic visual. Panels are installed on suspension system with hooks.
Grille
This type is growing increasingly popular as design trends embrace the linear look. It provides wide choice of slat widths, heights, spacing, and number of slats per panel.
Case study
Baptist Health South Florida wanted the design of its new Miami Cancer Institute in Miami, Florida, to reflect the warm Mediterranean style of the other healthcare facilities it operates.
"The client wanted to create a friendly, hospitality-type feel such as you would find in a fine spa or hotel," said Barbara Kubasti, principal at ZGF Architects.
Inspired by the connections to nature found in the surrounding landscape, the design team selected natural materials for the interior of the center, creating a comforting environment for patients and families.
Reinforcing the connection to nature, the lobbies and corridors feature wood linear veneered ceiling panels in a cherry finish. Each of the custom panels comprise three different widths of wood planks with a narrow reveal between each one, creating a linear visual aligning directionally with the corridors.
"We wanted the warm feel of wood and because the wood ceilings are linear in fashion, they accommodate the continuance of the long corridors that form the circulation spine of the building," explains Kubasti. "The panels are backed with a factory-attached acoustical fleece to help control noise in the areas where they are installed."