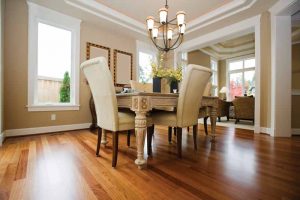 The visual appeal of a wood floor is hard to match. Most people experience a certain joy when entering a building where wood has been used generously. They may not be able to put their finger on exactly why they react favorably to wood—it may be the touch of elegance or the warm glow they sense, but whatever it is, the positive impression is indisputable.
Wood flooring offers more advantages than just aesthetic appeal in both homes and commercial settings. It is easy to clean and is significantly more stain-resistant than carpeting. Wood is also strong and durable, and if properly cared for, its hard surface can last for decades. When a wood floor shows signs of wear from years of regular use, many can simply be refinished rather than replaced entirely. Wood floors also add value to any building, increasing the resale value by as much as 10 percent or more. An article in our newest sponsored e-book delves further into wood flooring over a concrete subfloor.
This article appears along with a couple of others in Achieving Success in Concrete Flooring Applications, a free, downloadable resource. To get your copy in either pdf or digital edition, visit www.constructionspecifier.com/ebook/iselogik-achieving-success-in-concrete-flooring-applications-e-book.