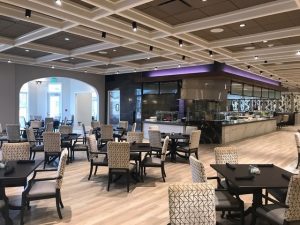 Led by Dallas-based architecture firm three, The Woodlands at Furman, a single-site senior community, is updating and expanding available amenities, adding 44 new independent living units.
To meet the demand created by adding 44 new residential units, the dining area doubled in size and capacity, designed with elegant arched doorways and dynamic ceilings with exposed beams. The service area is outfitted with "action stations" for specialty foods and featured cuisine offerings. The high-end, hospitality-inspired design for the repositioning project also includes a new 1208-m2 (13,000sq-ft) "community village" with salon, fitness center, and swimming pool.
Dubbed "The Trailway Expansion," the new buildings and additions debut this summer. New dining options and a community village are already open and available to current residents.
"Our goal for a project like The Trailway Expansion is to position The Woodlands at Furman overall as a highly comfortable yet newly stimulating, upscale environment, with architecture that evokes an emotional connection among prospective residents," says Rocky Berg, a principal with three and an expert in senior markets.
Known nationally for leadership in the senior life sector, Berg and the design team at three meet with community members and staff early in the planning phase to incorporate blue-sky ideas and resident vision into their architectural solution. The engagement meetings continue at least monthly to address any questions and concerns.
Tipton Associates (Baton Rouge, La.) provided architectural, food service, and interior design services for the renovation of the dining areas, led by architect Daniel Zito, AIA and complementing the larger work by three.