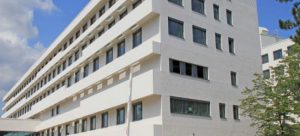 Klinikum Frankfurt Höchst, the world's first Passive House hospital currently being built in Frankfurt, Germany, is a step closer to certification after an airtightness test for the building, which spans 78,000 m2 (839,585 sf) of gross floor area, was successful.
The Passive House Institute (PHI) in Darmstadt has been consulting on this pilot project from the start, including the initial planning phase. It has now been tasked with the certification of the project. A baseline study on the implementation of the Passive House standard in hospitals was carried out in advance by PHI on behalf of the German Federal State of Hesse.
The highly anticipated hospital in Frankfurt's Höchst district has already progressed to the final stages. The scaffolding has been dismantled completely and the bright, white façade of the new build can now be seen. The interior finishing is currently being carried out.
The certification of this Passive House building included a pressure test to measure the building's airtightness. The differential pressure measurement method is used to detect any leaks (thermal bridges) in the building envelope that might lead to uncontrolled heat losses. The pressure test for the hospital delivered excellent results, which is not only good for the energy balance of the building, but also helps prevent structural damage in the long term, PHI said.
The measurement results confirm the building achieves an airtightness value n50 of 0.13 h-1. This is well below the Passive House requirement which allows an n50 value of up to 0.6 h-1.
"The test in the eight-story building went very well," said Oliver Kah from PHI. "The new build is outstandingly airtight, and is now a little closer to certification."
Over 1000 windows had to be closed for the airtightness test, and the dampers of more than 50 units connected to the ventilation and air-conditioning system had to be checked. Other technical systems also had to be tested, including numerous elevators whose motorized dampers have to open toward the outside in case of fire.
PHI has also been accompanying the construction of the hospital and monitoring it. In this way, the energy-relevant target values calculated in the context of scientific monitoring for Passive House hospitals will be tested in practice. As a result, recommendations for the planning and operation of further Passive House hospitals can be derived from the monitoring data.
The new hospital building with 664 beds, 10 operating theaters, and a hybrid operating room is to be completed in 2021.