World's longest elevated pedestrian loop opens at Minnesota Zoo
by arslan_ahmed | August 22, 2023 11:27 am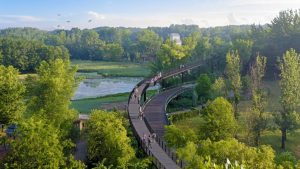 The 2-km (1.25-mile) Minnesota Zoo Treetop Trail, claimed to be the world's longest elevated pedestrian loop, officially opened recently. The loop takes guests up to 9.75 m (32 ft) above the ground and gives them access to hundreds of hectares (acres) of hardwood forest, ponds and marshes, and the diverse Minnesota wildlife.
The trail was designed by Snow Kreilich Architects; structures designer, Buro Happold; and TEN x TEN Landscape Architecture and Urbanism. The construction leader is PCL Construction.
It adds more than 6,500 m2 (70,000 sf) to the zoo and includes 22 bump-out overlooks to enhance the viewing experience while walking the trail.
Integrating into the Minnesota Zoo's original monorail track, which opened in 1979 and was retired in 2013, the Treetop Trail is a reuse construction project. Planning began in June 2018 and a ceremonial groundbreaking was held in April 2022.
Here are some interesting facts about the trail:
The trail comprises more than 15,000 composite deck boards that were manufactured in Worthington, Minnesota, enough to make 165 average residential decks.
The trail consists of 80,000 decking fasteners.
The project has a total of nearly 1,000 tons (907 tonnes) of new structural steel, which reinforces angles, walkway frames, and handrails around the curves in the trail.
The trail has more than 1,800 light fixtures in between the railings, alternating left to right every 1.2 m (4 ft).
The trail was built in 6.1-m (20-ft)-long modular sections (400 in total). Each was wheeled into place by a custom trolley fabricated for this project.
"For the last 45 years, the Zoo has done a tremendous job connecting people and animals. The Treetop Trail allows us to reimagine the traditional zoo experience and further the connection between people and the natural world," said John Frawley, Minnesota Zoo director, at the opening ceremony.
Endnotes:
[Image]: https://www.constructionspecifier.com/wp-content/uploads/2023/08/Treetop-Trail-at-Minnesota-Zoo.jpg
Source URL: https://www.constructionspecifier.com/worlds-longest-elevated-pedestrian-loop-opens-at-minnesota-zoo/
---