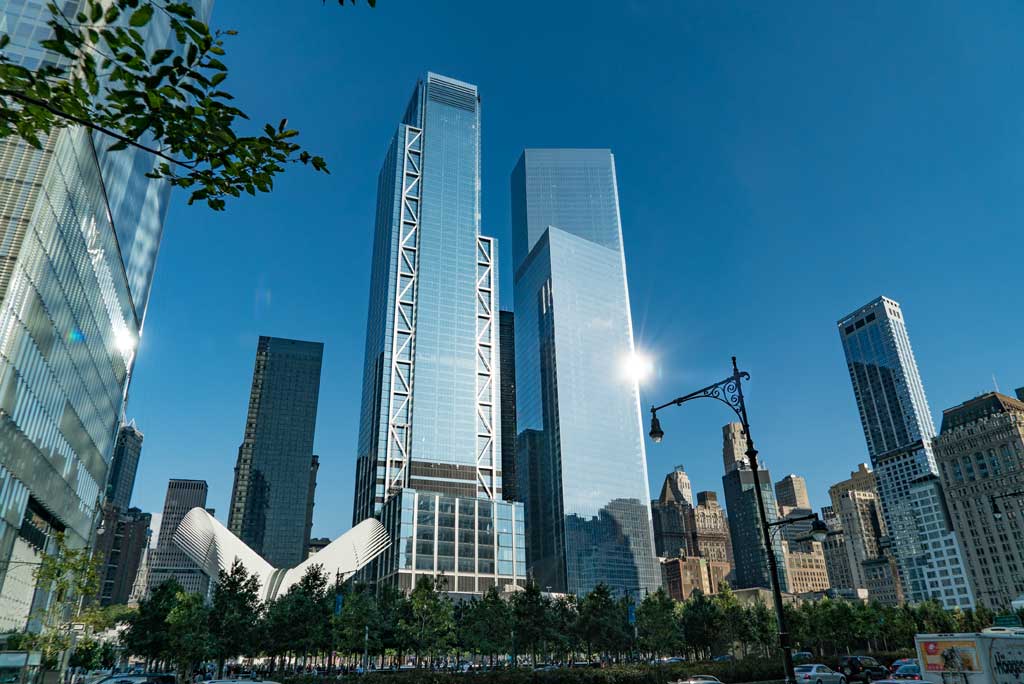 Real estate developer Silverstein Properties commemorated the opening of its 3 World Trade Center (3 WTC) skyscraper with an on-site ribbon-cutting ceremony in New York City on June 13. Located in Lower Manhattan, the 329-m (1079-ft) tower is the fourth completed building of the five that are planned for the 16-acre (6.5-ha) World Trade Center site.
3 WTC houses a total of 232,258 m2 (2.5 million sf) of office space. Each of the tower's 80 stories includes 2787 m2 to 6503 m2 (30,000 to 70,000 sf) of floor space with ceilings as high as 7.3 m (24 ft). Designed by U.K. architecture firm Rogers Stirk Harbour + Partners, the skyscraper features a reinforced concrete core encased by a steel structure and defined by its load-sharing system of K-shaped bracing. Additionally, the building has floor-to-ceiling glass and column-free floor plates, creating unobstructed, panoramic cityscapes.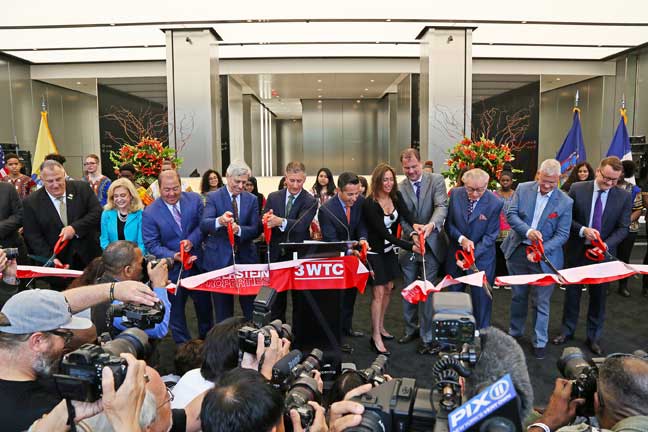 "Starting with 7 WTC and the rest of the towers that followed, we sought to create modern, environmentally-conscious, and technologically-advanced offices; places that foster creativity where young people would want to work and collaborate," said Larry A. Silverstein, chair, Silverstein Properties. "That meant great architecture and sustainable design, but also improved transportation, a more vibrant streetscape, new shops and restaurants, great public spaces, and exciting and fun public space art."
The mixed-use tower, which includes more than 20,067 m2 (216,000 sf) of retail space spread over five floors, will welcome more than 6000 new employees this year from tenants, including media investment group GroupM, consulting firm McKinsey, and IEX, a stock exchange company. The building also includes direct weather-protected access to 12 subway lines and New Jersey-bound trains, and is located next to 32 bus lines, as well as ferries and water taxis for New Jersey and Staten Island.
"It has been a great privilege to design one of the new buildings on this key site in New York," said Richard Rogers, founding partner at Rogers Stirk Harbour. "We are particularly delighted that we have been working in the heart of this vibrant city. This was a complex and challenging project, but one which has helped to contribute to the revitalization of New York City and one which will help to inspire a new hope for the city's future."
Like 7 and 4 WTC, the building is expected to achieve Leadership in Energy and Environmental Design (LEED) Gold certification under the U.S. Green Building Council (USGBC).
To read more, click here.