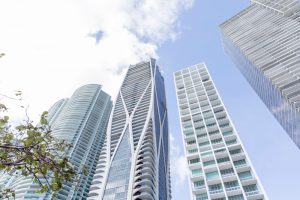 The One Thousand Museum residences in Miami, Florida, is now complete. The tower blends art, architecture, and design to appear as a continuous piece of contemporary sculpture from podium to crown.
The 88,258-m2 (950,000-sf) property provides 84 residences in a state-of-the-art environment. It is the only residential skyscraper in the Western Hemisphere designed by Zaha Hadid.
The contrast between the exoskeleton and the crystalline glazing of the glass façade beneath it is one defining characteristic of the tower. The other is the integrity with which form follows function. The tower's fluid curves reflect its internal organization as it rises more than 62 stories from the arrival podium to the amenity levels, the residential floors above, and finally to a dramatic double-height amenity space at the crown.
Shadows cast by the white exoskeleton on the recessed glass façade emphasize the interplay between the verticality of the tower and the horizontal lines of balconies. At the uppermost levels, where full-floor penthouses and the crown amenity space are located, a split at each corner of the tower reveals folded glass elements. In sunlight, reflections along the corner glazing give the appearance of finely cut jewels set precisely within the tower architecture.
Residences are now available for immediate occupancy. The tower includes a private rooftop helipad, indoor-outdoor wellness center, yoga facilities, relaxation pods and private rooms for spa services, and a triple-height sky lounge for dining and events.