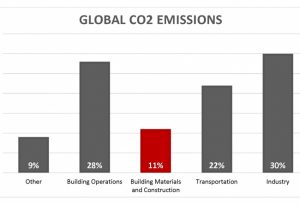 ZGF Architects has developed a calculator tool to conduct rapid life-cycle assessments (LCAs) of a proposed concrete mix. The calculator compares the mixes to typical regional practices and estimates environmental impacts related to greenhouse gas (GHG) emissions and other key sustainability indicators.
This LCA considers the concrete's environmental impact, from the sourcing and refining of the materials—its manufacturing, delivery, and construction activities—and its maintenance and final disposal through its useful life.
The LCA tool works by analyzing a given concrete mix via six main environmental impact indicators and comparing them to a regional baseline for the specified structural strength (measured in kPa [psi]).
The tool bridges several impediments in current LCA design processes, allowing the comparison between a proposed concrete mix design and the regional baselines without a Revit model and without requiring specific, proprietary environmental product declarations (EPDs) for the mixes. This provides near real-time decision-making at every phase, from concepts to construction, and can drive conversations with contractors and engineers for less carbon-intensive mixes.
Whether a structure is primarily concrete or if the material is used in a lesser capacity, the calculator can be used to reduce impact while also maintaining material integrity and safety.
For a free copy of the concrete LCA tool, contact Baha Sadreddin at lca-tool@zgf.com.