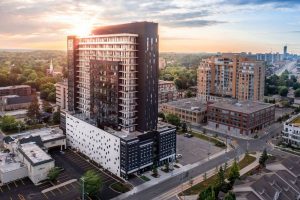 The Precast/Prestressed Concrete Institute (PCI) has selected 29 winners and 13 honorable mentions for PCI Design Awards in the buildings and transportation categories.
For the past 59 years, the PCI Design Awards have showcased innovative use of precast concrete. The buildings and transportation categories are judged on aesthetic, structure, and use versatility; site, energy and operational efficiency, and risk reduction; and resiliency, such as structure durability, multi-hazard protection, and life safety and health.
Several projects are also honored with special awards. These are judged on similar criteria to the building and transportation projects, as well as additional requirements, including industry advancement, sustainable design, technology, and designs using all-precast concrete solutions. These are the Harry H. Edwards Industry Advancement Award, the Building Information Modeling (BIM) Award, the Sustainable Design Award, and the All-Precast Concrete Solution Award.
Winning projects will be recognized on March 4 at the 2022 PCI Convention in Kansas City, Missouri. They will also be highlighted in PCI publications, including PCI Journal, Ascent, and ASPIRE magazines.
A list of this year's winners and honorable mentions is available on the PCI website.