by Michael Chusid, RA, FCSI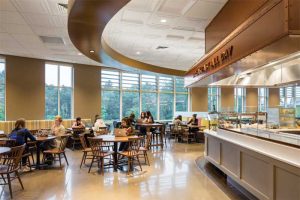 Despite widespread perception that architects and designers are fearless innovators, many, in the author's opinion, are quite resistant to change. When a product works reasonably well, building professionals tend to stick with it until strong evidence justifies a change.
This article presents a rational investigation comparing acoustic ceiling products made from mineral fiber with thermoformed rigid vinyl types. While manufacturer reputation, economics, availability, and similar factors are important considerations, a rational investigation must look at test data gathered in accordance with industry standards. While performance is not everything, without it, there is nothing.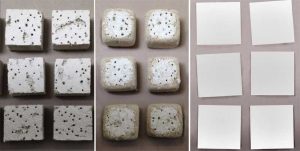 The basis for the investigation is testing by independent laboratories using recognized industry standards. Committees tasked with developing standards comprise individuals who are active in and knowledgeable about the subject matter. Their work is open to public review and commented on and honed through periodic revision. A document is not issued as a standard until a consensus is reached that it provides a meaningful tool that can be applied throughout an industry.
Some standards used to evaluate ceiling materials are well-known and frequently cited in product literature and construction specifications. For example, ASTM C423, Standard Test Method for Sound Absorption and Sound Absorption Coefficients by the Reverberation Room Method, and ASTM E84, Standard Test Method for Surface Burning Characteristics of Building Materials. Other standards, including those for strength properties and stain resistance, are less familiar but provide valuable insight for material selection.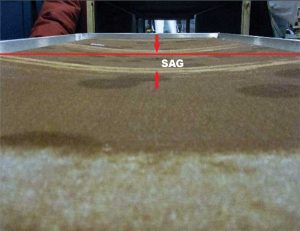 Strength properties
ASTM C367, Standard Test Methods for Strength Properties of Prefabricated Architectural Acoustical Tile or Lay-in Ceiling Panels, contains procedures to test acoustic ceiling tiles and lay-in ceiling panels for hardness, friability, sag, and traverse strength. Its preface says that some "materials used for absorbing sound generally have a porous, low-density structure. In comparison with many building materials, they are relatively fragile. Materials are available that possess adequate strength and stability and at the same time provide good sound absorption."
Hardness
This test corresponds with a panel's resistance to impact or indentation, measured by recording the force required to depress a 50-mm (2-in.) diameter penetrator to a depth of 6 mm (1/4 in.) into the panel. Thermoformed panels are too thin to test singly, so multiple layers of the material were stacked to enable assessment. The results are not representative of actual conditions of use, but indicate vinyl is significantly harder than mineral fiber.
Friability
Twelve small squares of the material being tested are placed, along with 24 small wood cubes, in a wood box, then tumbled at prescribed speed for two cycles of 10 minutes duration. The specimens are weighed after each cycle and the percent of mass lost through abrasion or breakage is calculated. Products losing the most mass are more friable (Figure 1).
ASTM C367 says, "Products that are friable and soft will erode considerably when subjected to rough treatment."
Experience indicates friable products erode considerably even due to ordinary treatment.
Further, "the friability test measures the susceptibility of an acoustical product to edge and corner damage sustained during shipping, handling, and installing."
Friability, however, may also relate to release of airborne fibers due to normal building vibrations.