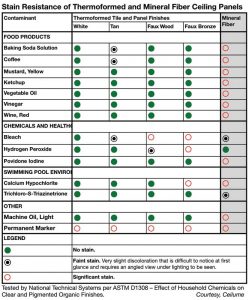 Test methodology
Samples were exposed to 14 common staining agents including coffee, red wine, yellow mustard, ketchup, vegetable oil, bleach, povidone iodine, hydrogen peroxide, light machine oil, baking soda solution, vinegar, two types of swimming pool chlorine, and permanent marker. The laboratory compared one of the most widely used white mineral fiber acoustic panels against four colors of thermoformed acoustic panels.
Each staining agent was placed on a specimen panel and allowed to sit overnight. After being cleaned in accordance with the standard, specimens were examined visually, photographed, and the findings are summarized in Figure 6.
Results
The mineral fiber panels showed 'significant stains' from all the food products, povidone iodine, calcium hypochlorite, and light machine oil. They had faint stains from bleach and one of the chloride products. The only staining agent they resisted was hydrogen peroxide.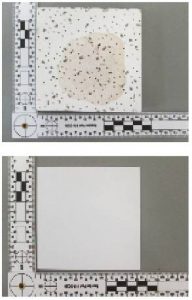 In contrast, thermoformed acoustic ceiling panels proved stain-resistant with either zero or only faint stains from all the agents tested. Permanent marker is the only exception to this observation as it stained all specimens. White showed no staining with any of the 13 other substances. Latte had only 'very faint' stains from baking soda, coffee, and bleach—the laboratory noted these "appear as very slight discoloration of the surface where the substance was applied. They are difficult to notice at first glance, and require an angled view under lighting to be seen." Faux metal and wood finishes resisted everything except three harsh chemical solutions: bleach, hydrogen peroxide, and calcium hypochlorite (Figure 7).
Discussion
Mineral fiber panels have porous or fissured surfaces that are vital to their acoustic performance, yet they provide locations through which stains can enter into a panel and become difficult to dislodge. Most mineral fiber panels can be damaged by water or liquid, so there is no effective way to wash them. Further, their edges and corners are fragile and prone to damage when panels are handled or removed for cleaning.

Thermoformed panels are made from rigid vinyl that is impervious to moisture and easily cleaned—factors that make them acceptable for use in hygienic environments such as food handling and healthcare areas. They can be cleaned by brushing, vacuuming, or with water or common household cleaners. They are durable enough to be taken down, cleaned, and replaced without damage (Figure 8).
Other considerations
Specifiers must balance many considerations when selecting appropriate products for a building, and sometimes strength and stain resistance are not the primary drivers. Some mineral fiber panels, for example, can contribute to the fire-resistance of floor-ceiling assemblies or offer superior noise-reduction properties. Yet, strength and stain resistance impact product durability, the service life, and building sustainability and resilience, and should be considered as part of a holistic approach to design.
When interpreting the test results based on standards, ASTM cautions, "Not all of the tests described in these test methods are necessary to evaluate any particular product for a specific use. In each instance, it is necessary to determine which properties are required. Properties determined by these test methods reflect the performance of the materials under the specific conditions of the test, and do not necessarily indicate performance under conditions other than those specified herein. This standard does not purport to address all of the safety concerns, if any, associated with its use. It is the responsibility of the user of this standard to establish appropriate safety and health practices and determine the applicability of regulatory limitations prior to use."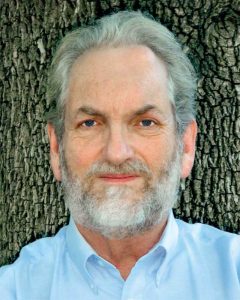 Michael Chusid, RA, FCSI, is a frequent contributor to The Construction Specifier, and a consultant to building product manufacturers. He can be reached at www.chusid.com.