FAILURES
Deborah Slaton, and David S. Patterson, AIA
Cast stone is a highly refined architectural precast concrete manufactured to resemble natural building stone. Its popularity was related to the rapid development of the portland cement and concrete industries in the late 19th century, with numerous patents taken out for a range of related products.
Employed as a cost-effective alternative to building stone for architectural ornaments or wall claddings, the material is fabricated with various mixes to resemble different natural stone types. Similar to precast, it is subject to failures including surface erosion (i.e. weathering of paste and aggregate), crazing (i.e. fine hairline cracking), cracking, and delamination.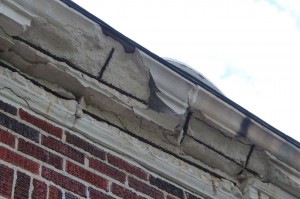 Deterioration may result from corrosion of embedded metals, as well as cyclic freezing and thawing. Issues during fabrication may include improperly graded aggregate (resulting in an overly porous material vulnerable to deterioration) or poor compaction, consolidation, or curing, which can lead to delamination and other distress.
Corrosion of embedded, unprotected steel can lead to cracking and delamination. Ferrous staining may indicate presence of corroding metal within or behind the cast stone units. Where steel reinforcement and anchorage components are located too close to the cast stone surface, spalling of the adjacent cast stone can occur. Less common problems include:
deterioration of specific components of the cast stone (e.g. aggregate, cement);
reaction between components (e.g. alkali-silica reaction);
fading or deterioration of pigmented facing layers; and
failures due to improper mix proportions or use of inappropriate admixtures.
Repair procedures for cast stone should follow methods and techniques for precast concrete. Corroding embedded metals should be exposed, cleaned, and coated, or removed and replaced. New reinforcement or anchorage should be stainless steel, if possible. Patching materials must be compatible with the original mix—compositional analysis of samples of the existing cast stone and preparation of trial repairs are required to achieve an aesthetic match.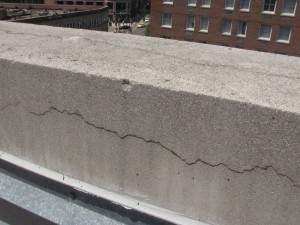 A delaminated facing layer can sometimes be repaired by through-face pinning with fine diameter stainless steel anchors. Cleaning procedures for cast stone should use the gentlest approach possible. After repair or cleaning, clear penetrating sealers may be appropriate to reduce moisture infiltration in cast stone.
Severely deteriorated units cannot be repaired. In these cases, research and analysis of the original cast stone can help develop an appropriate mix to match color and texture for the replacement unit. As with concrete, the durability of new cast stone can be enhanced by using air entrainment; quality control during fabrication is essential.
The opinions expressed in Failures are based on the authors' experiences and do not necessarily reflect those of the CSI or The Construction Specifier.
Deborah Slaton is an architectural conservator and principal with Wiss, Janney, Elstner Associates, Inc. (WJE) in Northbrook, Illinois, specializing in historic preservation and materials conservation. She can be reached at dslaton@wje.com.
David S. Patterson, AIA, is an architect and senior principal with WJE's Princeton, New Jersey, office, specializing in investigation and repair of the building envelope. He can be e-mailed at dpatterson@wje.com.