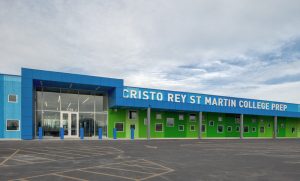 The Cristo Rey St. Martin College Prep (CRSM) school in Waukegan, Illinois, is a new, specialized high school campus designed by architecture firm JGMA, using the foundation of an abandoned big box store.
With malls and other retail locations closing across the U.S., CRSM demonstrates the potential of these sites for renewal and reuse without the need for demolition.
The renovation and construction project required the comprehensive transformation of an abandoned big box store into a contemporary educational facility serving more than 400 students. The former building structure had no identity and no physical or emotional connection to the community. The design-build team's challenge was to break down those barriers and develop an innovative design that would inspire the students, faculty, administration, and community.
The tall volume, open floor plan, and northern wetlands became immense opportunities in the transformation. To make the deep floor plan suitable for a learning facility, renovators integrated daylight into all learning spaces by slicing the building with sawtooth light monitors and skylights throughout its perimeter. The team also polished and stained the original concrete floors to reflect additional light, and installed vibrant color panels to warm the space.
The building's facade now proudly showcases the school's identity, as its tones reflect a gradient of CRSM's school colors.
In all, the 5110 m2 (55,000 sf) build-out incorporates 18 classrooms, three science laboratories, offices, and a cafeteria. It also features a library commons area for students, with a new HVAC system controlled by web-based building automation technology.