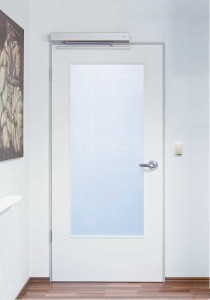 An important point to note is the standards' pass/fail criteria represent minimum industry acceptance levels, not upper-end boundaries. Some premium architectural hardware manufacturers market products exceeding these industry standards by factors of 10 or 15. For example, ANSI/BHMA 156.3, Exit Devices, Section 8.1, "Cycle Tests," calls for actuating the device 500,000 cycles without incident. A few manufacturers have extended cycle testing of their exit devices beyond 15 million cycles, with third-party laboratory-witnessed documentation.
In preparing language for security devices, the specifier may encounter the need for highly specialized devices only used in certain building contexts. For instance, delayed egress unlocking is generally employed in healthcare buildings. The goal is to delay an unauthorized exit long enough for an alarm to alert staff and allow them to respond. As required by code, such a device delays exit hardware unlocking by 15 seconds. A longer delay could become a problem on the life-safety side. More recent applications for delayed egress unlocking apply to various security uses outside the healthcare category.
Ensuring life safety
Strict compliance to current life-safety codes and product listings has saved countless lives. Fire safety is the most critical issue related to door hardware specification. The specifications for fire-rated openings are driven by the local AHJ and prevailing local building codes. The standards that reference model codes making them mandatory include:
NFPA 80, Standard for Fire Doors and Other Opening Protectives;
NFPA 101, Life Safety Code;
ANSI/UL 10C, Positive-pressure Fire Tests of Door Assemblies;
NFPA 252, Standard Methods of Fire Tests of Door Assemblies; and
UL 1784, Air Leakage Tests for Door Assemblies.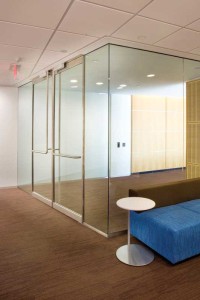 Those unfamiliar with the realities of fire rating regarding doors and hardware may be surprised to learn relevant standards can apply a lower rating than those governing adjacent walls (i.e. the rating for the door/opening is 75 percent of the wall). However, there may be some exceptions. Some doors must have the same rating as the wall while some are permitted to be one-third of the wall rating, as seen in Table 716.5 of the 2012 International Building Code (IBC).
Fire ratings are stated in terms of time, so a given type of wall construction may have a four-hour fire rating, but the doors and hardware might be rated at 75 percent, equaling three hours. The theory behind this 75 percent wall-to-door ratio is rooted in the understanding doorways are to be kept clear of obstructions and debris, while an adjacent wall can have combustible material stored up against it.
This applies to the whole assembly, including the door itself and its moving and locking hardware. It should be noted the door's resistance to penetration by flame is important, but not the only reason its fire rating becomes part of the finished specification. In terms of protecting life, a door structure's integrity as a barrier to smoke and fumes (the toxic combustion produced by burning carpet, upholstery, plastics, and paper goods) may be more critical.
Contemporary fire-rated doors maintain performance in actual fires through fusible mechanisms causing doors to lock and remain locked at sustained high temperatures for the time required by AHJ and life-safety code.
One critical element of life-safety door hardware is the exit device—not unreasonably called the 'panic device' or 'panic bar.' In modern practice, this device, along with any other fire-listed locking component, delivers one-motion egress, a crucial capability in dangerous, high-stress situations. With the exception of residential applications, life-safety occupancy and building codes require rooms or gathering spaces with 50 or more occupants to have exit doors swinging in the direction of egress.
For assembly, educational, and daycare occupancies having 100 or more persons, the life-safety code generally requires the use of one or more exit devices, as per NFPA 101. The IBC sets the number lower to 50 or more occupants in high-hazard structures, and on doors in electrical rooms with over 1200A, greater than 1.8 m (6 ft) wide, and having over-current, switching, or controlling devices.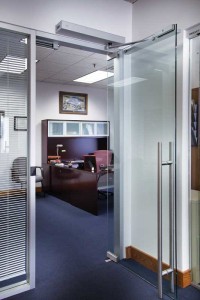 The one-motion imperative requires users to simply push to actuate an exit device or rotate a lever for unlocking. The device must be operable even when hands cannot touch the hardware. The concept of one-motion egress dates back well over a century, to many fires in high-occupancy structures. Locked, poorly designed, or malfunctioning hardware has trapped people in some instances.
Regardless of what is contained in commonly cited reference standards such as NFPA, it is incumbent on specification writers to maintain a full knowledge and understanding of all local codes influencing the project for which they are writing architectural hardware specifications. Such codes are commonly more stringent than performance requirement standards, and the AHJ is the final authority whenever such a question arises. There is also a hierarchy of importance among general considerations specification writers confront. Therefore, a fire code governing door hardware must prevail over accessibility guidelines; it is a common-sense situation because of the relative impact of the two considerations.
Conclusion
Thorough understanding of the requirements for architectural door hardware—plus careful interpretation of all code requirements—make for huge challenges for the specification writer. Naturally, it is also necessary to satisfy the aesthetic interior design demands of the building owner.
It takes focus, skill, and expertise to ensure specified architectural door hardware is in full compliance with commonly referenced and recognized standards and listings such as those issued and maintained by ANSI, BHMA, and UL, and maintains compliance with all federal, state, and local accessibility requirements.
Robert Hasty, CSI, CDT, is a product marketing manager at Dorma. He has more than 20 years of experience in the building products industry. Hasty can be contacted via e-mail at bhasty@dorma-usa.com.