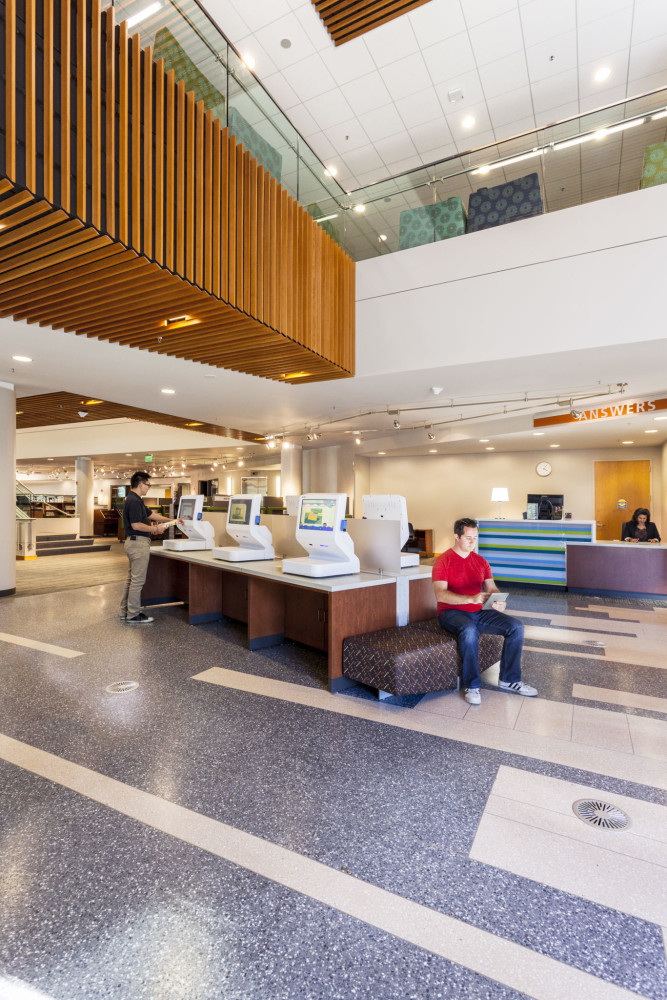 Consistent temperatures now greet visitors to the Mitchell Park Library & Community Center (Palo Alto, California), thanks to its use of underfloor air-distribution (UFAD).
The $47-million, two-story building comprises a 3716-m2 (40,000-sf) library and 1486-m2 (16,000-sf) community center, with raised floors using UFAD fabric ductwork throughout for uniform air dispersion.
Compared to conventional overhead ductwork, UFAD can provide more even temperature control in the 0.9- to 1.8-m (3- to 6-ft) high occupied zone. This was of particular concern, given Mitchell Park's high ceilings.
UFAD can also offer advantages of positioning floor diffusers where the air is most needed. The raised floor also provides a space to conceal, add, or reroute electronic cables, piping, and other utilities for any future data equipment upgrades or room reconfigurations.
"Compared to UFAD, recessed or hung ceiling ductwork would be more difficult to maintain," said Debra Jacobs, PE, LEED AP, PMP, project engineer for the city's Public Works Dept. "Cooling air from above the occupied zone is less efficient and the ductwork would also reduce the aesthetic floor-to-ceiling window views of the adjacent park and sports fields."
A UFAD system presents certain disadvantages when used in buildings with window-dominated walls, such as Mitchell Park. Supply air temperature differentials of as much as 2.2 C (4 F) are common in these cases. The thermal swings are due to low set point-operating discharge temperatures required to meet the perimeter high-solar loads, which in turn can create excessively cool interior area temperatures.
To solve the issue, the design team specified a proprietary textile air distribution system that delivered air strategically through custom linear vents. This facilitated better distribution via textile duct with an adjustable air releasing end cap.
The building's other key features include:
solar electric panels providing 25 percent of the library's electricity;
solar hot water panels;
night sky radiant cooling with cold water storage;
water reclamation; and
green living roofs.
The library was certified platinum under U.S. Green Building Council's (USGBC's) Leadership in Energy and Environmental Design (LEED) system. The center was named Center of Excellence in the 'Facility Design—Community Center/Mixed Use' category in 2014 by the California Parks and Recreation Society (CPRS).