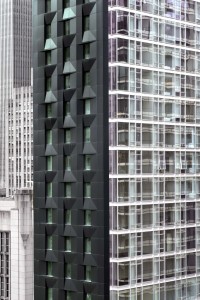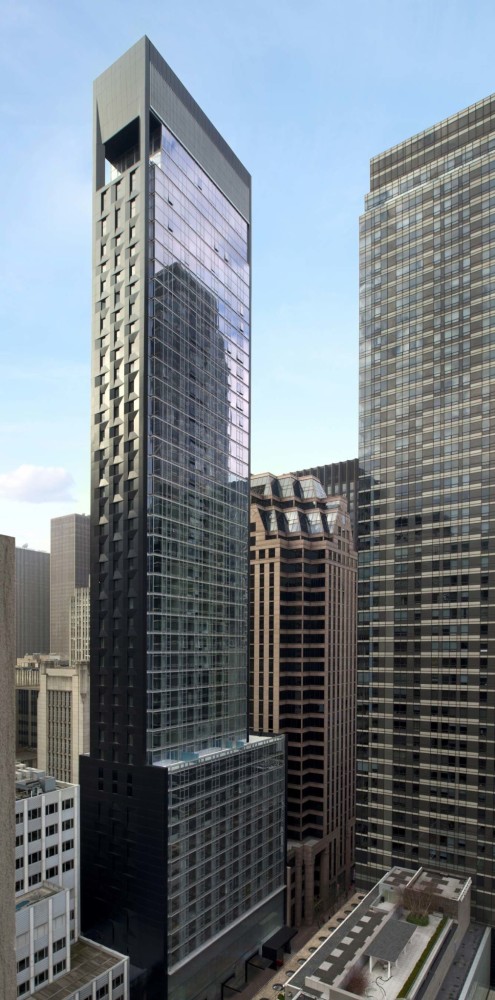 Baccarat Hotel & Residences is a 184-m (605-ft) tall mixed-use building located on the corner of Fifth Avenue and 53rd Street in New York City.
It stands out not only for its views of Manhattan landmarks, such as Central Park, the Empire State Building, and the Museum of Modern Art (MoMA), but also for its articulated shimmering metal skin and glass façade, meant to embody the elegance of Baccarat—the luxury crystal brand founded by King Louis XV of France more than 250 years ago.
On the ground floor and one level below the 32,237-m2 (347,000-sf), 50-story structure, is a public library. Above that is a nine-story luxury hotel comprising 114 guestrooms and suites. Sixty condominiums ranging in size from one to four bedrooms, along with three-bedroom duplexes and a five-bedroom duplex penthouse, fill the rest of the space.
To achieve a crystal-like exterior, the design team turned to a proprietary faceted, jet-black aluminum composite material (ACM) for the eastern and western elevations. The solid, matte surfaces—which reflect sunlight throughout the day—frame the reflective northern and southern façades, which are clad in shimmering glass.
To create the desired custom faceted form, a lightweight, high strength-to-weight ratio material was needed. Another requirement was that it had to be easily shaped (i.e. bent or folded).
The panels were installed at a slight angle of 152 mm (6 in.) deep from one another, but the effect looks deeper, exaggerated by the deep black metallic flake paint finish. The faceted metal panels take on the properties of the sky, their shimmering black surfaces complementing the reflective glass of the tower's façade.
The faceted design impacted every stage of the project––from fabrication to shipping and installation of the 4-mm panels, which covered 10,219 m2 (110,000 sf). In some areas, the framing to support the panels was more than 254 mm (10 in.) deep, requiring gusseted steel brackets and tapered framing.
"Installation of the tapered framing that had to accommodate a concrete variance of over 127 mm (5 in.) (±63.5 mm [±2.5 in.]) was complex," said Norman Harbison, vice president of IDA International, which designed, engineered, and installed the panels. "We had to do this while maintaining proper anchor embedment and correct framing location. Templates for these framing members had to be used with specific registration points to allow for accurate framing installation. However, once the panel framing was located, the panel installation itself was fairly straightforward."