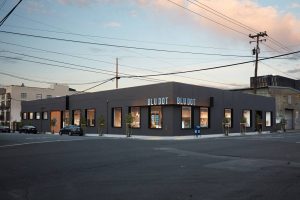 An adaptive reuse project has creatively transformed two vacant buildings at San Francisco's 99 Missouri St. into the new showroom of the international furniture retailer, Blu Dot.
The site, located at the corner of Missouri and 17th Streets in the Potrero Hill neighborhood, had once served as the outlet for a graphics supply company and a separate auto body shop before both closed down. The architecture and engineering team at the firm specializing in urban infill design, The Office of Charles F. Bloszies, FAIA (CFB), envisioned the transformation in collaboration with Blu Dot design director Maurice Blanks and his visual merchandising team.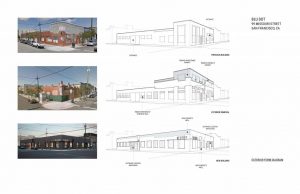 The reimagined site combined the two defunct outlets and transformed the original concrete structures into a new envelope for Blu Dot. In doing so, wooden, and concrete parapets built as part of a partially finished false façade at the corner of the building, were removed, along with portions of concrete to expand the size of the windows to allow in more sunlight and maintain an organized exterior rhythm. CFB designed a board-formed concrete parapet extension to provide a uniform horizontal cap, creating a simplified modern profile.
"We also designed steel window frames popping out of the façade like oversized Tiffany windows, fashioned to echo the scale of industrial window openings found on nearby buildings," says firm principal, Charles Bloszies. The interior design, reminiscent of an art gallery, serves as an armature in which to display Blu Dot's product line. Floors are terraced to be flush with exterior grades at different levels, finished with unvariegated wood flooring or polished concrete. Interior fixtures are integrated with structural elements resulting in a simple, crisp interior setting, with walls painted white to function as background for the pieces on display. Plinths built on the interior side of the pop-out windows allow product displays at eye level for street side passersby.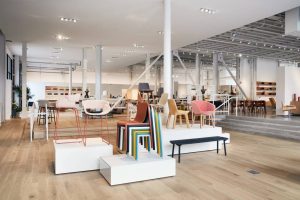 "The goal of this transformation is to provide Blu Dot with an architectural expression consistent with its furniture design ethos, while at the same time ensuring that it suits the long-established industrial character of this part of the Potrero Hill district. In this way, Blu Dot ingratiates itself with its neighbors while creating a memorable, unmistakable home for the Blu Dot brand," adds Bloszies.