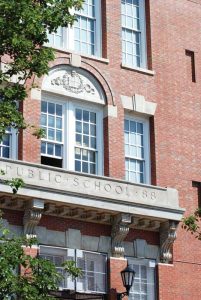 By Albert Aronov, AIA
The November 2021 issue of The Construction Specifier included an article from the author on the topic of overcladding as a solution for commercial, institutional, and government buildings owners that are structurally composed of masonry and beginning to show the impacts of age, weather, neglect, and deferred maintenance on the enclosure. This is a follow-up article speaking to additional questions in this system type. The topics to be addressed in this article, when it comes to overcladding masonary facades and foundations, as well as roof assemblies, include the following:
Placement and attachment of insulation and air barrier within the assembly.
Considerations for the use of exterior insulation and finish system (EIFS) overclad solutions.
Structural considerations, including thermal bridging and construction costs.
The appropriateness of face-sealed systems in certain climate regions.
Questions regarding air barriers.
Insulation and air barriers
One premise of the original article is that the bearing walls of many government and school buildings across North America, built in the last century with solid masonry, are now experiencing moisture intrusion. These areas of leakage and incursion are leading to severe degradation and damage to brickwork, window openings, and interior assemblies with plaster and other finishes. As an alternative to removing and replacing the original masonry—an approach that can negatively impact structural integrity—project teams and architects are encouraged to design an insulated facade layer with vapor barrier, creating a new enclosure that is watertight and energy efficient, and possibly more attractive. This raises a question about how to ensure the ideal placement and attachment of the insulation, air barrier, and cladding.
The project case studies in the original article were school buildings built in the early part of the 20th century with masonry, and particularly brick and brick veneer. The approach employed for these structures has been intended to accomplish restoration and renovation using a face brick system that would improve the enclosure performance while retaining the original aesthetic in some measure. In these cases, the new face brick overcladding was applied directly to the existing load-bearing masonry (after any needed repairs) without adding any layers of insulation between. The technique includes parging the original masonry to create a smooth surface for application of a fluid-applied vapor-permeable barrier, with a mini-cavity and drainage mat for moisture to escape. This approach results in a waterproof, breathable, and attractive facade.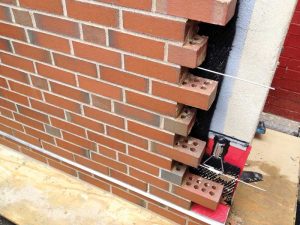 For projects in cold climates using a rainscreen system instead of a face-sealed solution—whether fiber cement, metal panels, terra cotta, or siding—insulation is essential and must be continuous to be most effective. The International Energy Conservation Code (IECC) adopted a requirement of continuous insulation (ci) in the building enclosure in 2012 because of its effectiveness in increasing thermal resistance of a wall. However, even if it were not required, inclusion of CI in the exterior overcladding system represents an opportunity for optimizing energy efficiency for the balance of the building life span. In a case study presented at Building Enclosure Science and Technology (BEST5) Conference, on overcladding a critical-care patient tower for a Baltimore, MD hospital, the authors noted:
Without a continuous insulation system in the masonry cavity the concrete masonry units of the backup wall and the edge of the concrete floor slabs became major contributors to heat loss due to thermal bridging…With the exterior assembly uninsulated, the interior framed wall realized heat loss through thermal bridging due to the metal studs exposure to the uninsulated concrete masonry units…1