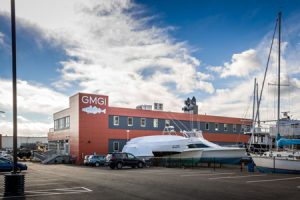 Construction of a state-of-the-art biotechnology laboratory and office building in Gloucester was completed last month. The 1719 m2 (18,500 sf) facility is located in a designated port area in the city's historic waterfront and will be dedicated to marine research.
Gloucester Marine Genomics Institute (GMGI) is the inaugural tenant occupying 465 m2 (5000 sf) on the first floor of the building. GMGI will conduct genomic research on marine organisms.
To conduct this type of research, complex mechanical, electrical, and plumbing (MEP) configurations were built during construction to accommodate laboratory spaces and high-tech equipment. For example, a marine research room featuring 18 aquaria with thermal controls and plumbing delivering seawater directly from Gloucester Harbor to the living species was built. A molecular genomics wet lab, a DNA lab with sequencers, an equipment passage area featuring -62 C (-80 F) freezers, and a reagent lab with built-in fume hoods were also created.
Due to its location on the Gloucester wharf, the two-story building was constructed on a frost wall system elevating the structure 1.3 m (4 ft) above ground with water louvers to protect it from flooding. Additionally, the building features an anti-corrosive coating on the exterior to protect the metal panel siding from environmental elements.
Windover Construction provided project development services, formulating and implementing the site development strategy, from feasibility analysis to design, permitting, and construction.