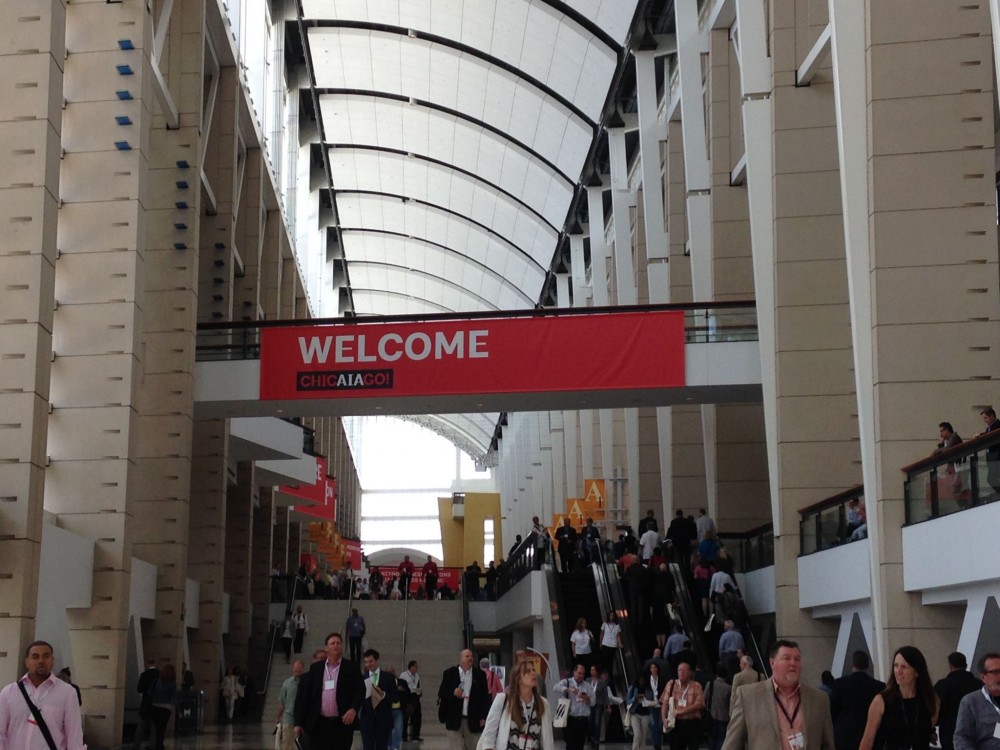 Last month, the 2014 annual American Institute of Architects (AIA) Convention welcomed nearly 20,000 attendees to Chicago.
Beginning June 25 and wrapping up three days later, the event was packed with educational seminars, keynote presentations, and a bustling tradeshow. Close to 800 exhibitors filled the McCormick Place hall, showcasing new products, materials, and technologies. Also included on the show floor were various education sessions taking place in learning lounges and at numerous booths. These were held in conjunction with the traditional seminars that included topics such as:
? "Innovative Global Approaches to Solar Shading Strategies: The Interplay of Climate, Culture, and Construction" (Melanie L. Berkemeyer, LEED AP, and Fiona Cousins, LEED Fellow, PE, FCIBSE);
? "Innovative Applications in Architecturally Exposed Structural Steel" (Terri M. Boake, BES, BArch, March, LEED AP);
? "Deep Energy Retrofits and the Architect's Role in This Emerging Opportunity" (Nicholas Docous, LEED AP, NCARB, Jeremy Kalin, and Maurya McClintock, Assoc. AIA, LEED AP); and
? "Increased Project Delivery Efficiency on Renovation Projects Utilizing Building Information Modelling (BIM) Strategies and Workflows" (Jennifer L. Costanzo, AIA, LEED AP).
Outside the convention center, organized tours took attendees to view some of Chicago's landmarks and architectural hotspots. These events included a running tour along the Windy City's lakefront, a walk exploring the transformation of its South Loop area, and a bus tour to check out Wilmette, Illinois' Baha'i House of Worship and Welcome Center.
AIA also used the convention to announce the endorsement of its Contract Documents Digital Practice set by CSI. Reviewed by a technical committee for consistency with CSI's technical values, the endorsed documents include:
? AIA C106-2013, Digital Data Licensing Agreement;
? AIA E203-2013, Building Information Modeling and Digital Data Exhibit;
? AIA G201-2013, Project Digital Data Protocol Form; and
? AIA G202-2013, Project Building Information Modeling Protocol Form.
"We are pleased the AIA documents incorporate the 2010 edition of UniFormat and OmniClass Table 21–Elements into the BIM protocol as methods of organizing and identifying BIM information," said CSI's immediate past-president, Casey F. Robb, FCSI, CCPR, LEED AP. "This use of CSI standards help align the AIA documents with established industry BIM best practice."
The 2015 AIA Convention will take place in Atlanta, from May 14 to 16. Click here for more information about registration, submitting presentation proposals, and exhibiting.