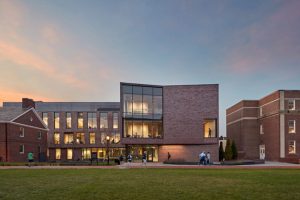 The American Institute of Architects' (AIA's) Committee on Architecture for Education (CAE) is recognizing 11 projects for state-of-the-art designs of schools and learning centers.
The Education Facility Design Award jury selected six facilities for its Awards of Excellence and five projects for its Awards of Merit.
To be eligible for AIA's Awards of Excellence, the architect must demonstrate exemplary practice. The design must meet a host of criteria, including enhancing learning in classrooms; balancing function with aesthetics; establishing a connection with the environment; being respectful of the surrounding community; demonstrating high-level planning in the design process; and integrating sustainability in a holistic fashion.
Awards of Excellence were bestowed on:
Belmont Day School Barn (Boston, Massachusetts) by Utile, Inc;
Bluestone Elementary School (Harrisonburg, Virginia) by VMDO Architects;
Environmental Nature Center Preschool (Newport Beach, California) by LPA Design Studios;
Home Building at Thaden School (Bentonville, Arkansas) by Eskew+Dumez+Ripple;
Lafayette College Rockwell Integrated Sciences Center (Easton, Pennsylvania) by Payette; and
the Phil and Penny Knight Campus for Accelerating Scientific Impact at University of Oregon (Eugene, Oregon) by Ennead Architects in collaboration with Bora Architecture and Interiors.
Projects selected for the Awards of Merit are recognized for being of superior quality. This year's recipients include:
Flight 93 Visitor and Learning Center (Denver, Colorado) by Paul Murdoch Architects;
Grant High School Modernization (Portland, Oregon) by Mahlum Architects;
Minnehaha Academy Upper School Reconstruction (Minneapolis, Minnesota) by Cuningham Group Architecture;
Pace University Student Landscape (New York, New York) by FXCollaborative; and
Virginia Wesleyan University Greer Environmental Sciences Center (Virginia Beach, Virginia) by VMDO Architects.
Click here for more information on the Education Facility Design Awards.