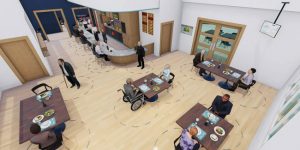 The American Institute of Architects (AIA) has released strategies and illustrations that can help senior living communities mitigate risk of COVID-19.
These resources were developed by a team of architects, AIA's Design for Aging knowledge community, public health experts, and engineers, to assist with pivoting communities toward a more sustainable set of strategies that can reduce risk for residents and staff while creating a more comfortable way of life that is supportive of overall well-being.
In addition to the 3D model—produced by RLPS Architects—the team's findings are detailed in a report for administrators, design professionals, and public officials. These strategies are meant to work in tandem with AIA's other tools that can assist senior living communities with mitigation measures to safely resume activities and reopen closed spaces. These tools include a seven-step Risk Management Plan for Buildings for assessing hazards and applying strategies that reduce risk and the AIA's Re-occupancy Assessment Tool.
Developing mitigation strategies is particularly critical for senior living communities, where risk is amplified, AIA said in a press release. The primary risk of transmission is currently considered to be close personal contact, which could occur among residents, staff, and visitors predominantly in gathering areas, such as dining rooms or common areas, and during group activities.