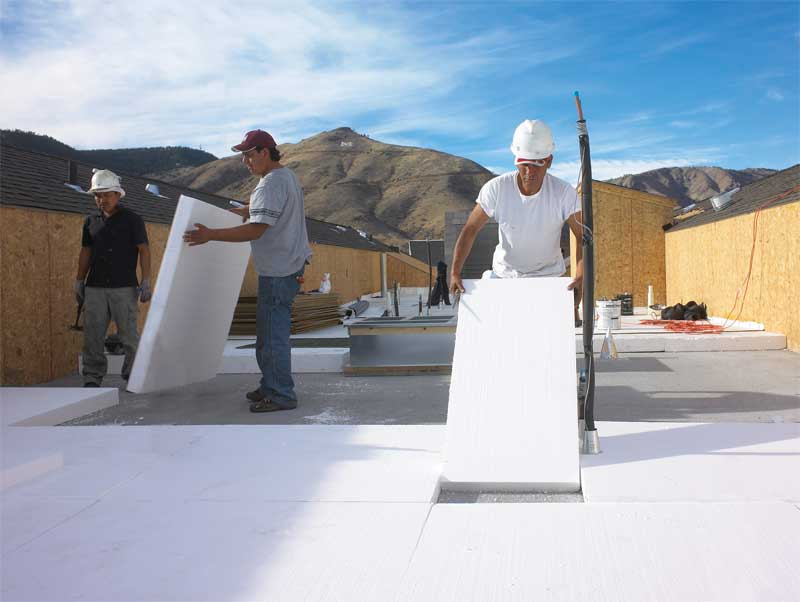 Induction welding
For design professionals who specify the induction welding method for attaching thermoplastic polyolefin (TPO) and polyvinyl chloride (PVC) roof membranes, a new solution enables them to use the method with more EPS insulations.
Building professionals choose induction welding as it requires fewer fasteners, and eliminates fastener penetration of the membrane, for a more watertight roof assembly. In a typical mechanically fastened membrane system, roof crews attach the membrane via screws and 50-mm (2-in.) diameter plates along the membrane's seams. The screws penetrate the membrane and insulation layer and attach to the underlying roof deck. The induction welding method alters this approach by placing the plates and fasteners under the membrane, and heat bonding the membrane to the plates via an induction welding tool that heats the plates to about 260 C (500 F). (See a brief video of the induction welding process here.)
Evaluating insulation's R-value per dollar can help reduce material and labor costs. Expanded polystyrene (EPS) insulation generally offers the highest R-value per dollar and is available in many product make-ups.
Until recently, the induction welding method was not compatible with EPS insulations lacking a cover board, as the heated plates cause the insulation to soften and draw back. This results in numerous depressions in the roof assembly (at each fastener location) where water can pond.
To eliminate this problem, fastener manufacturers now offer simple discs (a "separation medium") crews can place between the fastener plate and insulation. The discs protect the EPS insulation from the high heat of the induction welding process, without interfering with the bond between the membrane and the fastener plates. This enables building teams to specify the induction welding method with a wide range of EPS insulations.
Challenges
As a thermoplastic, it is important to be aware of limitations with using dark-colored coverings over EPS insulation in some climates. Black roof coverings in southern United States cannot be applied directly over the fanfold products or roof insulations that do not use a cover board.
Another factor to consider is some adhesives and coatings used in construction may contain solvents that are not compatible with EPS products. It is important to contact the EPS manufacturer to ensure compatibility with solvent-based products.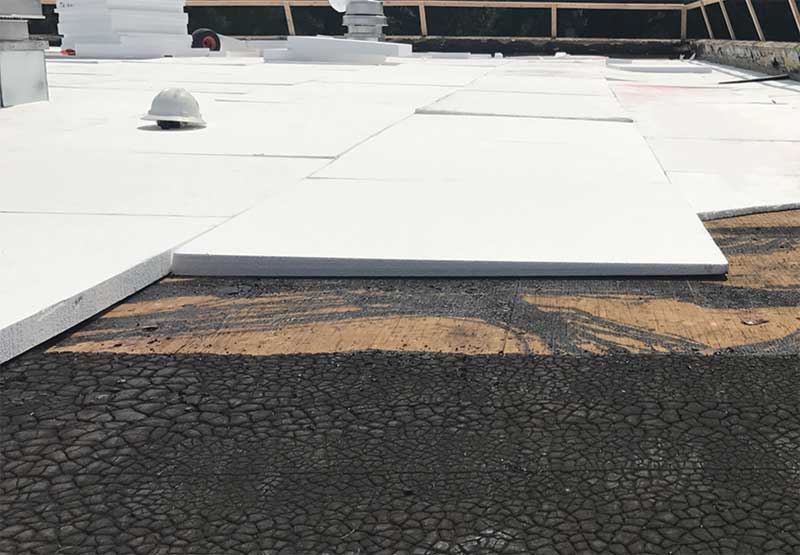 Conclusion
As energy codes become increasingly stringent, and as building owners demand more energy-efficient buildings, design professionals will be challenged to provide high-performance building envelopes without breaking the project budget. With these options for reducing material and labor costs, EPS insulation can be a cost-effective way to insulate roofs.
David Stassi is field technical support manager at Insulfoam, a manufacturer of expanded polystyrene (EPS) insulation products. A graduate of Colorado State University, prior to joining Insulfoam, Stassi worked as a field sales representative for OMG Roofing Products. Stassi can be reached via e-mail at david.stassi@insulfoam.com.