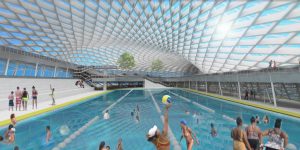 The three winners of Stage I of the 2019 Forge Prize have been announced. The prize recognizes innovation in the use of steel.
Established by the American Institute of Steel Construction (AISC) and organized by the Association of Collegiate Schools of Architecture (ACSA), the prize invited designers to submit proposals for visionary designs embracing steel as the primary structural component.
The three winning submissions will be paired with a steel fabricator to help continue design development and work out further technical or structural revisions to refine and enhance the viability of the conceptual design in a real-world application.
In Stage II, these winners and the jurors will participate in a public event, where each of the three finalists will present their designs and the jury will announce the final winner at the 2019 American Institute of Architects (AIA) Conference on Architecture.
Here is the Stage I winners:
Jingyu Lee (Magnusson Klemencic Associates): "Reimagined Office Tower Using Cantilevered Trusses";
Jin Young Song (University at Buffalo): "SIMS (Snap-Interlock Module System)"; and
Valeria Rybyakova (Perkins Eastman): "Responsive Enclosure for Public Pool".
For more information on the projects, click here.