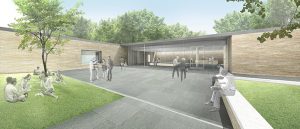 The Frank Lloyd Wright Trust is planning a new visitor and education center in Oak Park, Illinois, adjoining the celebrated architect's home and studio. The state-of-the-art expansion seeks to strengthen relationship to the community, deepen its educational impact, increase indoor and outdoor capacity by more than 1858 m2 (20,000 sf), and enhance visitor experience.
Designed by architect John Ronan, the new visitor center will consist of a reception hall with audio-visual programming, information and ticketing area, amenities, and a shop. A wooded outdoor plaza will extend from the visitor center and connect to the historic grounds of the home and studio. The combined visitor center and plaza will accommodate special events including lectures, receptions, and other community and educational gatherings.
A new education center will include a design studio for student and family classes with exhibition area. A conference room with private reception area will be a space for educator meetings, academic forums, young leadership summits, seminars, and special-interest group discussions.
A library and center for curatorial research will be adapted from the trust's offices, currently housed in a 1860s residence that was the home of Wright's mother. The home and studio garage will become a gallery for the trust's permanent collections.
"This is the most important initiative since the trust's founding and restoration of the home and studio. It will ensure that Wright's legacy remains vital to future generations. Ronan's proposal was chosen for its design simplicity, quiet presence within the site, and use of materials referencing the site and surrounding neighborhood," said Bob Miller, board chairman.
The plan will be submitted for review to the Village of Oak Park for its consideration of alterations and improvements to the trust's property.