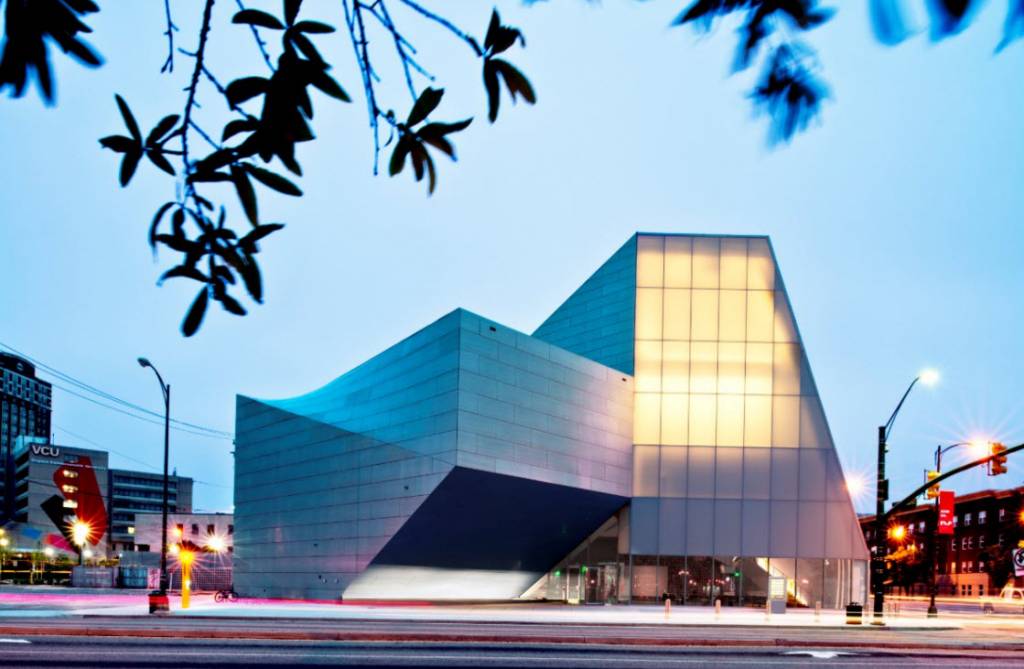 Architect Steven Holl's new project, The Institute for Contemporary Art (ICA) at Virginia Commonwealth University (VCU) in the city of Richmond, will hold contemporary art exhibits from around the world.
Located in the new Markel Center, the ICA offers 3809 m2 (41,000 sf) of flexible space including an 11-m high (33-ft) central forum. The exterior for the contemporary design is highlighted with 2601 m2 (28,000 sf) of zinc roof and wall panels.
"We designed the ICA to be a flexible, forward-looking instrument that will both illuminate and serve as a catalyst for the transformative possibilities of contemporary art," said Holl.
According to Steven Holl Architects, the clear and translucent glass walls and skylights infuse the building with natural light and lessen reliance on nonrenewable energy. The zinc shares the same greenish-gray tonality as the matte glass, giving the building "a shifting presence from monolithic opaque to multifarious translucent depending on the light."
"The 1.75-mm zinc is a little heavier than normal but that's what the architect wanted," said John Owens, Zahner project manager, who worked with Holl's team. Zahner provided 1,200 panels, of which 200 were curved. "We cut those panels radially as needed to fit the curved aluminum frame. All of that fabrication was done in our shop."
Gary Davis, Zahner's director of marketing, added, "To create museum-quality edges and detailing, Zahner digitally defined the scopes of work and fabricated from our 3-D model. Preceding construction tolerances were dealt with in a timely manner."
The ICA incorporates technologies and environmentally conscious design elements and makes use of numerous natural resources to meet LEED Gold Certification standards.