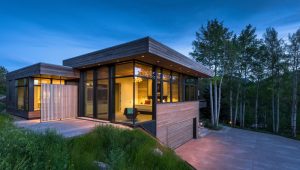 CCY Architects, an Aspen, Colorado-based firm recognized for its approach to architecture through inspiration from natural environments, believes enduring architecture enhances community, elevates life experiences, and restores connectedness to the natural world.
The architecture firm has been recognized with more than 150 regional, national, and international awards, including the AIA Western Mountain Region's Architectural Firm of the Year in 2017.
CCY Architects is recognized for their work throughout the region and across the U.S. In an exploration of 10 recent projects situated throughout the Rocky Mountain West, CCY Architects reveals the Colorado-based firm's approach to its work.
The monograph opens with a thoughtful foreword by University of Colorado professor, Rick Sommerfeld, and an introduction by CCY principal, John Cottle. The project presentations are accompanied by two essays—one that delves into the firm's exploratory process, and the other illustrating the connections that architecture can inspire.
Rooted to place and inspired by natural environments, the site-specific designs connect architecture with the environment. Diverse in scale, location, material, and form, each is designed in correlation with its environmental context. From remote stretches of nature to the neighborhoods of Aspen, each site prompts new design responses.
With sketches, drawings, and photographs of the design process, connection provides access to the firm's design process, appealing to architects and designers, as well as anyone interested in architecture, and environmental design.