Baltimore park promotes sustainable living
December 20, 2018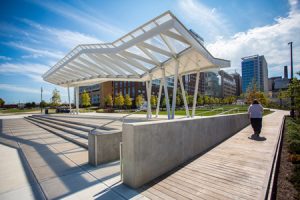 Eager Park in Baltimore, Maryland, was revitalized to showcase the community's wellness brand by utilizing sustainable building materials. Designed by Mahan Rykiel[2] and Gensler Architects[3], the 2.4-ha (6-acre) public space was created in conjunction with a biotech center close to the Johns Hopkins Hospital[4].
When fully developed, the 36-ha (88-acre) masterplan aims to serve as the economic driver for the renewal of the city's east side, with life-science research facilities, retail, a school, hotel, and open greenspaces.
Earlier this year, Eager Park won an Urban Land Institute[5] (ULI) Baltimore Wavemaker Award. The $12.2 million park was designed to be the centerpiece of the community's health and wellness where residents, hospital/research workers, and visitors could go to socialize, exercise, relax, and play in a green environment.
The park utilized many sustainable building materials in its construction, including approximately 929 m2 (10,000 sf) of modified wood specified for pathway decking and benches throughout the space. The durable wood performs well in severe weather conditions, a common phenomenon in Baltimore/Washington area during winter and summer.
Endnotes:
[Image]: https://www.constructionspecifier.com/wp-content/uploads/2018/12/Opener-25.jpg
Mahan Rykiel: https://www.mahanrykiel.com/
Gensler Architects: https://www.gensler.com/
Johns Hopkins Hospital: https://www.hopkinsmedicine.org/the_johns_hopkins_hospital/index.html
Urban Land Institute: https://baltimore.uli.org/
Source URL: https://www.constructionspecifier.com/baltimore-park-promotes-sustainable-living/
---