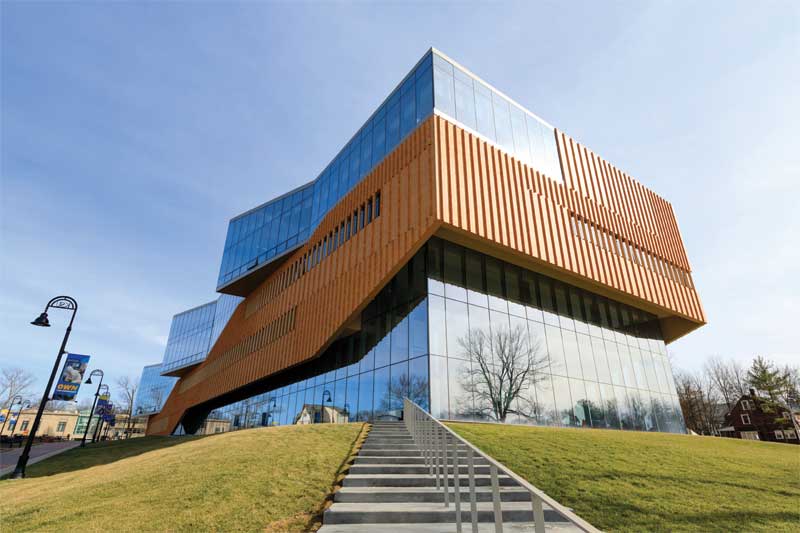 by Herbert Slone, RA, and Art Fox
A masonry cavity wall system must successfully perform multiple functions throughout the life of the building. A proper wall is expected to manage moisture, air, and heat, contain fire, and hold up the structure itself. For a wall to perform all these functions, specifications should include all the products necessary for the components to work together.
For the contractor, building a masonry cavity wall is just as challenging as specifying it is for the architect. Contractors rely on the architect for highly precise drawings and specifications so they can produce an accurate bid. They want to be able to build with familiar, proven methods and materials that are compatible and readily available through distribution.
For these reasons, specifying a complete wall system with all the components tested and warrantied together can offer many advantages to the design professional, such as helping support risk management. The design professional's ability to thrive depends on his or her ability to provide timely documentation for the building's performance.
Components of a masonry veneer wall system
The structural components forming the basis of the substrate may be steel or wood studs or concrete masonry units (CMUs). On the outside is the weather-resistant component—the cladding or masonry veneer. Between those are three functional component categories that complete the wall system and make the wall perform: moisture/air, thermal, and structural management.
Moisture/air management relies on:
an air- or water-resistive barrier (WRB);
a vapor barrier;
through-wall flashing (including mortar dropping collection and weep vents); and
water- and air-sealing washers on fasteners.
Thermal management involves:
insulation between the stud framing;
continuous insulation (CI) outside and over the framing; and
fire safing insulation.
Structural management depends on:
masonry anchors;
wall ties; and
water- and air-sealing washers on fasteners.
Systemization
Having all of the right components in the wall is not enough. A true wall system must have passed extensive testing proving the components, as a system, meet the code-mandated performance criteria and are physically and chemically compatible. Further, the system must pass industry-standard tests, such as:
National Fire Protection Association (NFPA) 285, Standard Fire Test Method for Evaluation of Fire Propagation Characteristics of Exterior Nonloadbearing Wall Assemblies Containing Combustible Components;
ASTM E119, Standard Test Methods for Fire Tests of Building Construction and Materials;
ASTM E2307, Standard Test Method for Determining Fire Resistance of Perimeter Fire Barriers Using Intermediate-scale, Multistory Test Apparatus
(used only for joint firestopping);
ASTM E331, Standard Test Method for Water Penetration of Exterior Windows, Skylights, Doors, and Curtain Walls by Uniform Static Air Pressure Difference; and
ASTM E2357, Standard Test Method for Determining Air Leakage of Air Barrier Assemblies.
Individual product components of the system can also provide the protection of a warranty that covers them against defects. In the event there is a problem, unified and cooperative solutions are best rather than multiple companies acting separately.