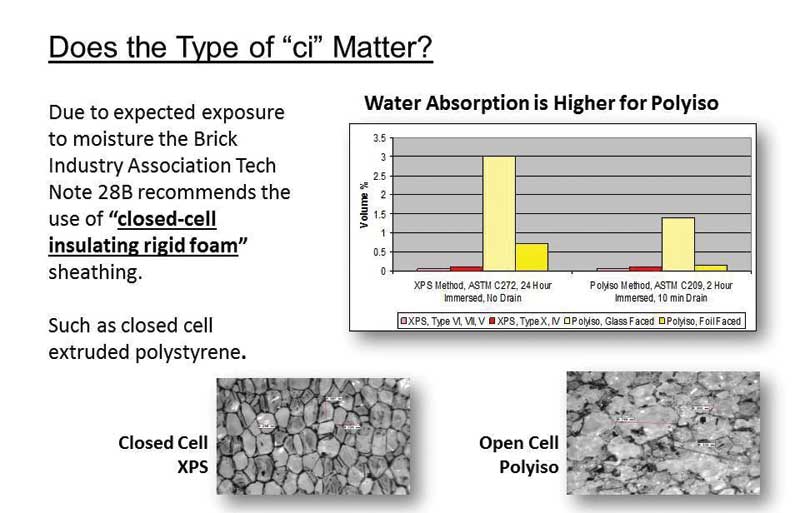 Structural components
Structural components anchor the masonry veneer to the structural wall. These critical elements must:
provide a solid connection between the structural backup and the veneer;
be sized properly so they span the cavity and make the proper connections in the right dimensions;
penetrate the nonstructural elements and make a positive connection to the steel stud backup wall;
provide a water- and airtight seal where they penetrate the nonstructural elements;
be flexible enough to allow for wall movement due to thermal variation and seismic events; and
be hot-dip galvanized, stainless steel, or zinc alloy so they will not corrode.
Concrete masonry unit walls often employ 'hook and ladder-style' joint reinforcing, which also includes eyes into which wall ties connecting to the masonry veneer can be inserted. For steel and wood stud wall systems, the best anchor types are barrel-style. The barrel makes a single penetration that creates a very stable connection, and includes a self-drilling head and a thick shoulder that engages the face of the stud and stabilizes the anchor.
When using a combination of anchors, ties, and washers, it can be useful to include a barrel-style anchor with a specialty sealing washer around it and a thermal break where the brick tie attaches to the anchor. This combination creates just one penetration, is sealed air- and watertight with the washer, and the thermal break reduces thermal conductance by breaking the steel-to-steel connection. Experiments show this system increases thermal efficiency by one to three percent. (The thermal benefit of the thermal clip, and the estimation of thermal benefit, was determined by ad-hoc testing conducted by a manufacturer. The masonry anchor is a three-component assembly—the barrel, a low-conductivity thermal clip, and a wire tie. The steel barrel that screws into the structural stud has a loop on the outer end to receive a wire tie, or, to receive the optional thermal clip.  The thermal clip is an engineered plastic structurally capable of holding the pintle legs of the wire tie; it is low in conductivity, breaking the steel to steel connection that reduces thermal transmission compared to when a clip is not used between the barrel and the wire tie.)
Conclusion
Since it is difficult, if not impossible, to achieve true building performance by specifying individual components, it is important to think holistically and look for a wall system tested and warranted to work together as a whole. Building and energy codes are replete with requirements for structural performance, multiple aspects of fire performance (e.g. containment, resistance, and propagation limits), as well as energy, water, and air management performance requirements.
All these code requirements are mandatory, and based on system performance. No single component can be tested to ensure overall system performance requirements are achieved. Therefore, it is incumbent on specifiers to ensure all the components they choose have been tested together to document system performance requirements. It is very difficult for a design professional to research data verifying a given collection of components has been tested together. It is much more efficient and reassuring to work with manufacturers that cooperate and collaboratively test complete wall systems to make certain a complete wall system meets mandatory building and energy code requirements.
Herbert Slone, RA, is Owens Corning's chief architect and senior manager of commercial building systems. As a registered architect with more than 45 years of experience in construction, he provides leadership in building envelope systemization. Besides working as an architect, he has also worked as a building official and university instructor, authored articles, and chaired industry committees, and was appointed by Ohio's Governor to the Ohio Board of Building Standards. Slone can be reached by writing to herbert.slone@owenscorning.com.
Art Fox has been the head of marketing and communications at Mortar Net Solutions since 2012. He was also the chief operating officer of the company when it was initially formed 25 years ago. Fox has been involved in the building trades since he was a contractor specializing in new home and light commercial construction in New Mexico in the 1970s. He can be reached via e-mail at afox@mortarnet.com.