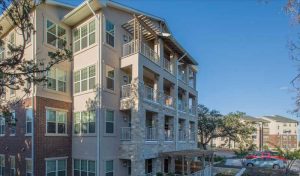 With this in mind, many senior care developments are increasing their offerings of private and personalized living units—as part of their campaigns to make timely, cost-effective improvements based on scale and market conditions. Single-occupancy rooms and private apartments for assisted-living residents earn a premium rental rate while costing less to build in terms of per-unit cost, making them the most profitable and leading developers to refer to them as 'high-revenue product.' These revenue additions help the financing of desired amenities and infrastructure, which, in turn, boost resident and employee satisfaction, happiness, and pride. The upgrades satisfy needs to serve the growing demand for today's aspirational senior lifestyles and future generation appetites. In this way, they improve market competitiveness for existing senior care communities, while leveraging costs across
a larger business platform.
Planning to renovate
Leading developers and operators in senior care start the renovation process by building a proactive, optimistic consensus with resident community leadership with an eye toward adding 'high-revenue products' to support the long-term sustainable value of the area. Before drawing up the architectural concept and project requirements, the owner group establishes a business plan supported by expert partners in the process, including marketing, operations, finance, development, design, and construction. This multidisciplinary leadership team works the plan through consultant expertise with go/no-go steps engaging resident and staff input and communication at key milestones.
WOODLANDS AT FURMAN
Woodlands at Furman, a single-site community in Greenville, South Carolina, is currently going through an expansion with high-end hospitality flair. Conceived to introduce a new 1208-m2 (13,000-sf) 'community village' space with a fitness center, salon, swimming pool, and multipurpose room, the project scope also includes 40 new independent living apartments, as well as renovations to dining and bar amenities and employee breakroom venues. Gary Koerner, AIA, met with groups of residents and staff during planning to discuss their concerns about the proposed changes, and to ensure the project team meets their needs and circumvents major disruptions for those living and working onsite during construction.

"The tricky part is the sweeping renovation of the dining area," says Mary Lou Merkt, CEO of Woodlands at Furman. "To meet demand the project has to double our dining capacity."

The project's architectural team is coordinating with interior designers and dining consultants to reconfigure the existing floor plan, while expanding the dining area footprint, modernizing the kitchens, and introducing an 'action station' with a brick oven, Mongolian grill, and other to-order services. Meanwhile, the exterior of the new community village and the new residence wings will harmonize with the existing architecture, and all interventions will emphasize maximizing penetration of daylight and views of the natural surroundings.

The design team visits the site monthly for ongoing staff and resident meetings. The intent of continued engagement is to maintain a dialogue connecting the construction to anticipated improvements, making those who will be inconvenienced feel invested in the project's success.
A number of the resulting building strategies focus on differentiating senior facility operators in their increasingly competitive markets. Elegant, amenity-rich environments for many residential care communities are designed with a material palette reflecting the importance of connections to art and the outdoors and nature, or biophilia, for engendering a relaxing, healthful atmosphere. For this reason, architects are integrating their designs with nature, utilizing natural materials such as exposed wood and stone finishes in many renovation and addition works. These enhanced community experiences also inspire more visits from family members and friends, who leave the premises, reassured their loved ones are enjoying a high-quality living experience.
One common expansion strategy involves adding an additional wing of independent-living apartments, and perhaps cottage duplexes or 'big houses,' to meet market demand. Often the added units are larger than their predecessors, with great-room floor plans, island kitchens, spa baths, media/exercise dens, and walk-in closets. The added units typically feature universal and sustainable design principles in their layouts and specifications. Since land is often scarce in these master-planned communities, below-grade garages offering premium parking and storage can be an attractive, but expensive, amenity.
Another dimension of renovating and expanding a senior care community is the opportunity to overlay new ideas in how environments support aging bodies and brains. Today's medical understanding of dementia and memory impairment, for example, has led to new support models for care delivery, which address both the causes and effects of these health changes. Insights into the stresses exacerbating dementia, for example, can optimize spatial and material designs for care delivery and memory-support wings or pavilions.