by Rockland Berg, AIA, NCARB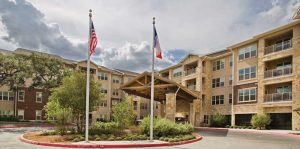 Perhaps no other commercial design market is evolving faster than senior living. What started as a targeted push in the 1990s toward scaling down and decentralizing developments for the elderly—creating models less institutional in aesthetics for aging residents with challenges in health, cognition, mobility, and sensory abilities—has, in recent years, exploded into a full-on typology reboot.
The senior living design renaissance goes far beyond rethinking the residential unit itself. It is important for developments as a whole to nurture community building and echo and connect to existing urban fabrics. While traditionally, amenities such as spas, restaurants, gyms, walking trails, and theaters were left out of senior developments, access to them is now a benchmark for success.
A national gathering of experts at the 2018 Environments for Aging conference in Salt Lake City, Utah, revealed another driver of this trend toward more amenities in the senior and residential care typologies—more owner-operators are trying to attract multiple generations to their communities. While the greatest generation (i.e. those born from 1910 to 1924) still requires options, owners are gearing up to meet the needs of baby boomers.
With this in mind, what are the best ways, in architectural terms, to foster generational coexistence? One trend is the growing implementation of universal design principles in building independent living residences, thereby creating spaces that are homely, while flexible enough to allow occupants to age in one place.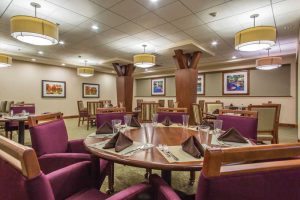 Savvy owner-operators are taking it a step further by integrating hospitality concepts and typologies—as in hotels, resorts, restaurants, and lounges—into the architectural partí or starting point for senior residential care design. Adapting proven hospitality models to senior consumer preferences and carefully tweaking them to incorporate effective housing and healthcare elements has emerged as a successful strategy for many new senior developments. Concepts drafted from hospitality include resident-facing architecture that creates a 'choreography of discovery,' as well as discreet but effective back-of house efficiencies, the multipurposing of entertainment and food venues, and an emphasis throughout the property on promoting a sense of well-being.
These novel approaches require a close look at both the codes and standards for senior care as well as key trends in caregiving. The findings have led to opportunities in renovating existing facilities to meet today's expectations and benchmarks.
Privacy and personalization
Residential care settings have emerged as an essential and common life choice for older adults and people with health challenges and disabilities. Delivering long-term care and life support in a community of neighbors, caregivers, and friends, senior living facilities offer an alternative to in-home services. For those who do not need the intensive level of care (and high costs) offered by nursing homes, but are uncomfortable residing on their own (or with relatives), these community-based living alternatives—typically identified as independent living, assisted living, and memory care—are popular and successful. There are close to 25,000 residential care settings with almost one million dwellers, according to the U.S. Department of Health and Human Services.
Beginning in the early 1990s, the increasing popularity of assisted living stemmed in large part from their mission to allow residents a high degree of privacy. Seniors would seek private rooms and bathrooms, small apartments, and even single-occupancy units with tiny kitchens. Over time, many states adopted new rules requiring private rooms and apartments, though this is not a universal standard.
The minimum requirements for assisted-living facilities (ALFs) in Oregon, for example, call for "individual apartments with a lockable door, private bathroom, and kitchenette facilities conforming to relevant state and federal building codes as well as the Americans with Disabilities Act and Fair Housing Act."
Shared units in that state, as in many others, are a function of resident choice. For bathrooms, the baseline elements include a toilet, sink, and a roll-in, curb-less shower. Kitchen areas should be equipped with a sink, refrigerator, a removable cooking appliance, counter space, and storage. That is the starting point.